Denver Omelet Pie

(5 servings)

6 large eggs
3 cups frozen shredded hash brown potatoes - thawed
1 cup shredded sharp cheddar cheese
1/2 cup cooked ham - diced
1/2 cup green pepper - chopped
6 strips bacon - cooked and crumbled
1/2 teaspoon onion powder
1/2 teaspoon dried thyme
salt and pepper to taste
I loved this one. The texture was perfect. There was a wide array of flavors in each bite. It was even kind of pretty compared to other breakfast casseroles. I opted to use both red and green bell peppers as those colors are usually in the best Denver omelets. I recommend doubling the amount of cheese so the dish tastes a bit more indulgent. When it comes to the frozen hash browns, please see an important cooking note below. If you like the flavors in a classic Denver omelet, you're gonna like this dish. I did! (This recipe was submitted in 2005. It was tested and photographed in August 2015.)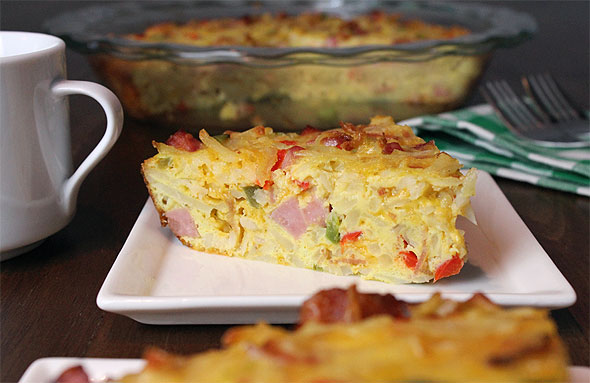 How To Make A Denver Omelet Pie

Lightly grease a 9-inch pie pan.

In a medium-sized cup or bowl, beat the eggs with onion powder, thyme, salt and pepper.

In a large bowl, combine potatoes, cheese, ham, green pepper, bacon and the egg mixture.

Pour mixture into prepared pie pan.

Bake at 350 degrees for 40 to 45 minutes or until knife or toothpick inserted in the center comes out clean.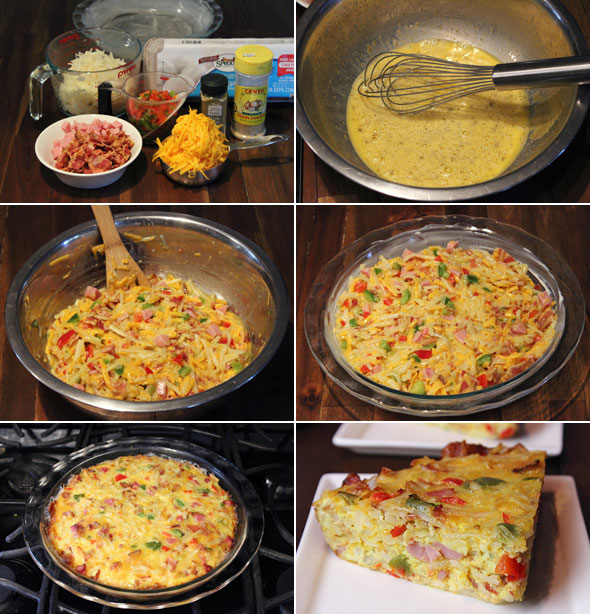 Important Cooking Notes From Mr Breakfast

For the frozen hash browns: Don't just thaw them. After they've thawed, put them in the microwave and cook them for 3 minutes with 2 Tablespoons of butter - stirring after each minute. Partially cooking them assures that they will be fully cooked and tender in the final dish. Allow them to cool before mixing them with the eggs, etc.

When it comes to the dried thyme, don't take that mean ground, powdered, pale-white thyme. Use the kind that consists of crushed dried leaves. Powdered thyme is too strong and off-putting. I tried it with both kinds, so trust me. If itís pale, your dish will fail. If itís green, youíre good to go.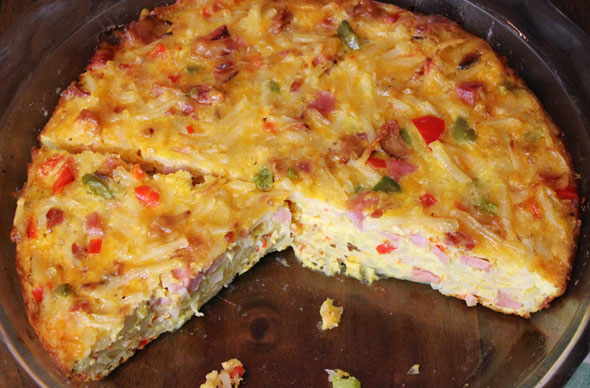 Really popular at family brunch. All the flavors of a Denver omelet in a quick-to-prepare, baked breakfast casserole that can serve a group.




Mr Breakfast would like to thank DixieChick for this recipe.

Recipe number 1456. Submitted 4/5/2005.