Curach (Irish Honey Cream Oatmeal)

(4 servings)

2 ounces steel-cut oatmeal (about 1/3 cup)
10 ounces heavy cream (about 1 and 1/3 cups)
3 Tablespoons Irish whiskey
2 teaspoons runny honey
12 ounces raspberries (about 2 cups)
1/3 cup sugar
This recipe is in our oatmeal section but it's more of fruit parfait. Toasted steel-cut oats are mixed with whipped cream that's flavored with honey and Irish whiskey. That then becomes layers of creamy, crunchy sweetness separating layers of fresh raspberries. The toasted oats have a nutty flavor that work exceptionally well with the sweet cream. My only complaint would be that the oats still retained a slight chewiness when they were toasted to a golden tan color. When I make this next time, I'll toast the oats to a darker brown so they'll have more crunch. See additional notes below. (This recipe was submitted in 2005. It was tested and photographed in February 2014.)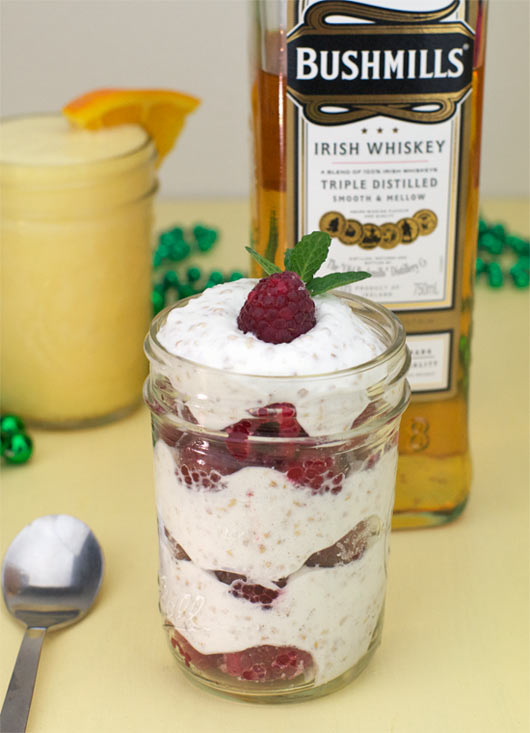 How To Make Curach (Irish Honey Cream Oatmeal)

Spread oatmeal out on a large cookie sheet. Toast under broiler (about 375 degrees) for about 10 minutes, stirring often until oatmeal is a golden tan color. Remove from oven and allow to cool completely.

Whip the cream until it holds its shape. Stir in the honey and whiskey, followed by the toasted oatmeal.

In a medium bowl, toss the raspberries and sugar until berries are well coated.

In a serving glass, layer the berries and cream alternately to create a beautiful parfait.

Serve and enjoy.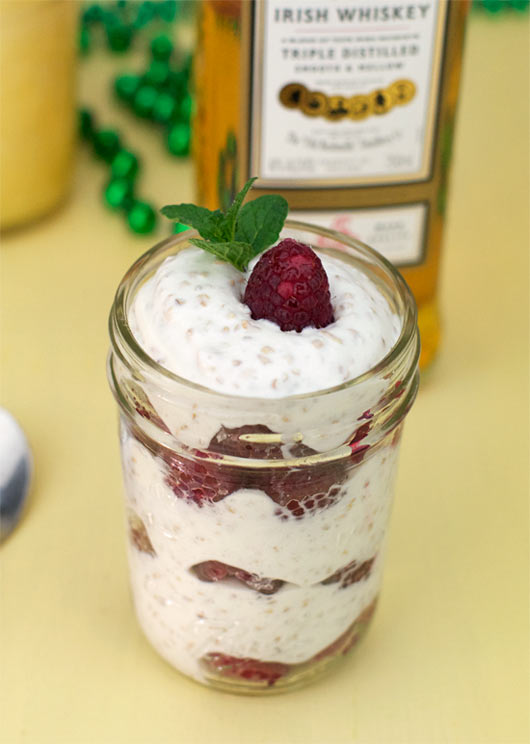 Cooking Notes From Mr Breakfast

I found 1/3 cup of sugar to be excessive for tossing the raspberries. I reduced that to just 2 Tablespoons.

Use the Irish whiskey as if it is a weak flavor extract. I added 1 Tablespoon to the cream and gave it a taste after stirring. I only had to add a couple more teaspoons after that to get a nice flavor out of it. So, I ended up using half as much as the recipe asked for.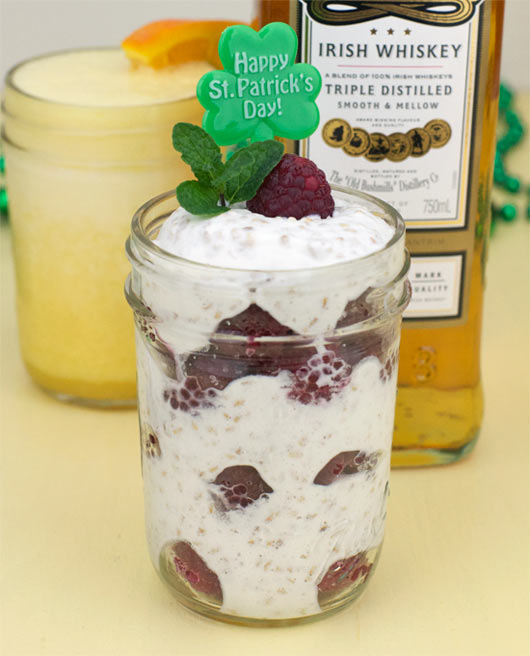 Happy St. Patrick's Day Everyday! The secret to this traditional oatmeal parfait is, seriously, just a little bit of Irish whiskey.




Mr Breakfast would like to thank leprican_katie for this recipe.

Recipe number 1450. Submitted 3/17/2005.