Onion And Tomato Scramble

(1 serving)

4 or 5 small cherry tomatoes
1/2 small onion - chopped
2 large eggs
some fresh chopped basil
Hooray for tomato season! These are freshly picked tomatoes from the MrBreakfast.com garden along with farm-fresh eggs from my local farmers market. Equipped with this good stuff, I wanted to make a simple breakfast that would really focus on fresh ingredients... so I turned to this recipe. Add some sauteed onions and freshly picked basil and that's all there is to it. You could sprinkle some grated cheese on top, but I recommend that you try it as is. It really does explode with garden flavor. If you do add a cheese, consider using just a light grating of a nice Parmesan so the cheese enhances the freshness instead of smothering it. I hope you'll try this. Please leave a comment below if you do and let me know what you think.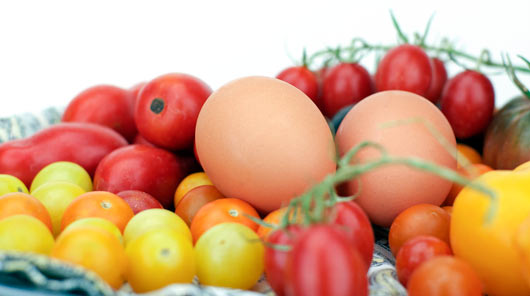 How To Make This Onion And Tomato Scramble

Slice and dice the onion and put in an oiled pan. Cook on medium heat until onions start to change color (about 5 min).

Meanwhile, slice and dice the tomatoes (keep the juice) and add them to the pan with the onions. Cook it for about 2 minutes.

Beat the eggs and place them in the pan. Add the chopped basil and cook until ready - stirring constantly.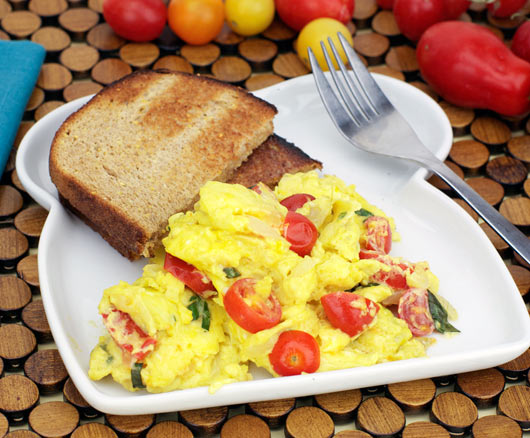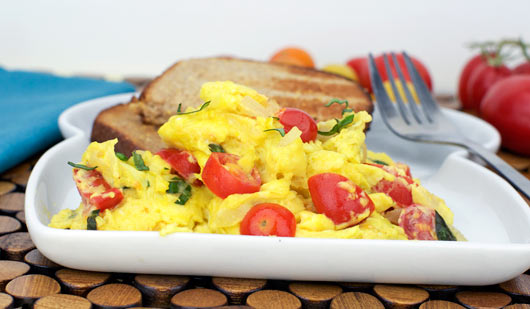 This recipe was emailed to Mr Breakfast by a great Breakfast Lover named Elad B. It's easy to make and loaded with garden-fresh flavor.




Mr Breakfast would like to thank Mr Breakfast for this recipe.

Recipe number 1402. Submitted 12/29/2004.