English Sausage Rolls

(6 servings)

1 16-ounce package ground sage pork sausage
1 17-ounce package frozen puff pastry sheets - thawed
1/4 cup Dijon mustard - optional
1 large egg - beaten
This is a tasty, simple recipe that's almost impossible to mess up. It takes less than 45 minutes from start to finish. I like it with eggs for breakfast, but a lot of people like it as an appetizer or a cocktail snack later in the day. In Britain, these rolls are a Christmas tradition among many families. Whenever you decide to eat them, I can 99% guarantee that you're gonna love these sausage rolls. (This recipe was submitted in 2004. It was tested and photographed in April 2015.)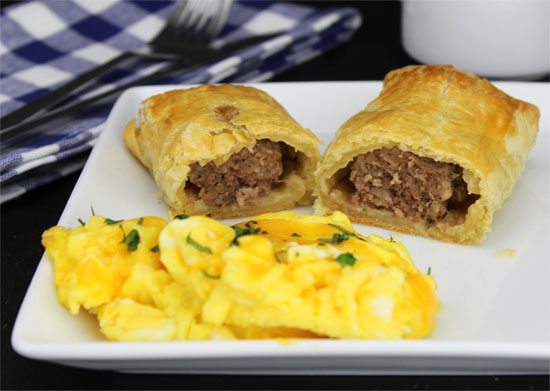 How To Make English Sausage Rolls

Makes 12 rolls.

Preheat the oven to 400 degrees F.

Unfold the puff pastry sheets, and cut along the fold lines of each sheet to form 6 equal squares for a total of 12 squares. Brush each square with mustard.

Divide sausage into 12 pieces, and roll into small logs. Place one log on each square. With your finger tip, dab a little room temperature water on the inside edges of the dough. Roll dough around the sausage. Place on a parchment-lined baking sheet seam-side-down.

Brush the tops with beaten egg to assure a golden brown sheen to the finished rolls. Poke the tops of each roll once or twice with a paring knife so steam can escape.

Bake for 20 minutes or until the rolls are puffed and golden.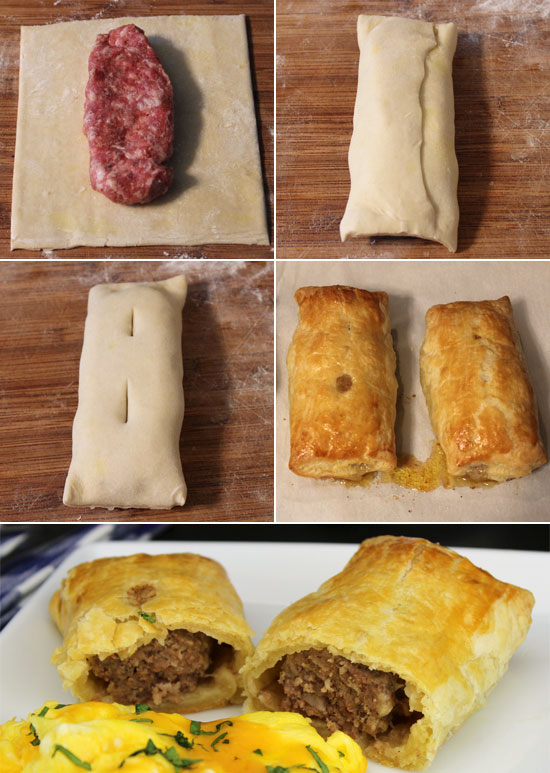 Cooking Notes From Mr Breakfast:

For a deluxe version with even more flavor, dice 1/3 of an onion and about 1/4 of a red or green bell pepper and mix it into the sausage before forming the rolls.

I bought my puff pastry in bulk from a local Armenian market. Thus, it wasn't the same size as most commercial puff pastry sheets. Mine were 5 x 5-inches, which I flattened to 6 x 6-inches. Using 1 pound of sausage, that yielded 8 fairly large sausage rolls.

I skipped the optional mustard as the most the comments this recipe received were from English people who recommended omitting that ingredient.

If desired, you can make the rolls into balls (pic below). Just ball up the sausage and wrap it in puff pastry. As long as you have sausage surrounded by pastry, you'll end up with something that's very enjoyable to eat.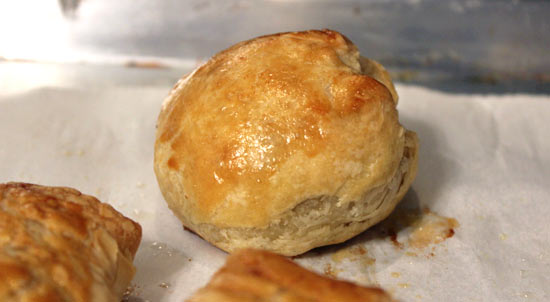 Try these instead of regular old sausage links next time you make an egg dish. It's sausage wrapped in puffed pastry that's baked to golden brown perfection.




Mr Breakfast would like to thank CurtAndMary for this recipe.

Recipe number 1401. Submitted 12/29/2004.