Asparagus Egg-Stravaganza

(1 serving)

3 large eggs
4-6 spears asparagus
2 Tablespoons diced sundried tomatoes in oil
1/4 cup goat cheese crumbles (more to taste)
Extra Virgin Olive Oil or unsalted butter
salt to taste
pepper to taste
garlic powder to taste
My chick LOVED this omelette. Personally, I don't much care for goat cheese with my eggs. So, I tried another version with Pepper Jack cheese and that worked great for me. For our asparagus, I actually grilled about a dozen spears and then chopped those up. The distinct flavor of the grilled asparagus was evident in every bite. I tried both sun-dried tomatoes and fresh tomatoes. I preferred the taste of fresh tomatoes. All this seem to suggest that this omelette is ripe for more experimentation and can be easily customized to fit personal tastes. I give this recipe a B+. My wife gives it an A. (This recipe was submitted in 2004. It was tested and photographed in October 2014.)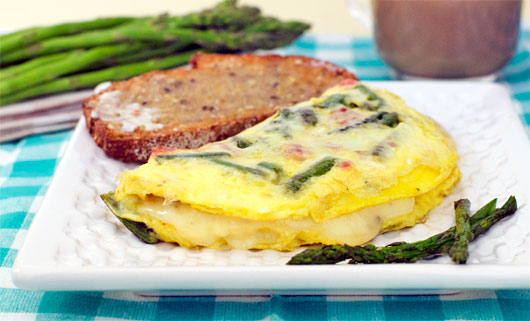 How To Make An Asparagus Egg-Stravaganza Omelette

Wash and trim asparagus and slice in 1/2 to 1 inch pieces on the diagonal. In nonstick pan over medium heat, saute sun-dried tomatoes with a little of the oil they are packed in and the asparagus until warmed. Add additional EVOO or butter to ensure just enough oil to keep omelette from sticking.

While tomatoes are heating, in separate container, beat eggs with fork. Once the tomatoes and asparagus are warmed through, add eggs to pan and season liberally with salt, pepper and garlic powder.

Stir the mixture so that the tomatoes and asparagus are evenly distributed. With a spatula, occasionally lift edges of egg mix to allow uncooked egg to drain underneath, thereby cooking faster. Once omelette is retaining its shape, gently shake pan to free it from any sticking and occasionally shake omelette so it slides around the pan while it cooks.

Once eggs are nearly set but still wet, sprinkle half of omelette with goat cheese. With spatula, gently fold omelette over to close. Slide onto plate. Can sprinkle with additional goat cheese as desired.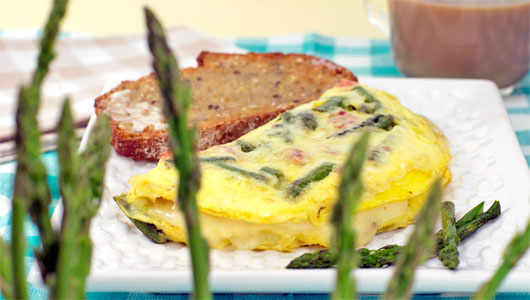 Asparagus Cooking Tip:

When preparing your asparagus, it's best to discard the very bottom of each spear as that portion tends to be tough and doesn't soften well during cooking. The best way to do that is to simply grab both ends of each spear with your fingers and bend until the spear breaks. 99% of the time, the tip and tenderest part will break away from the tough portion in the exact right spot.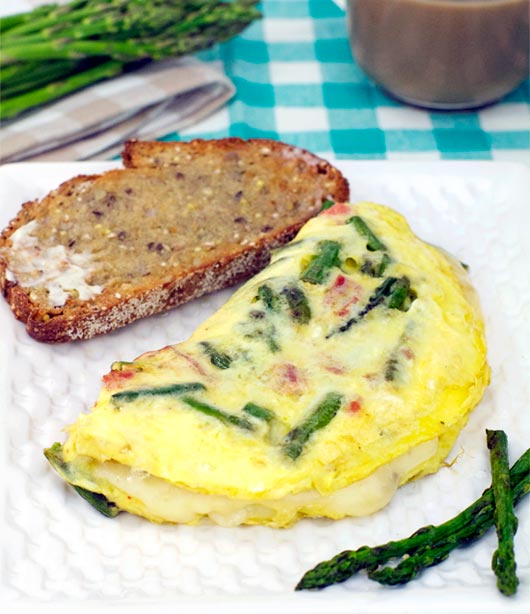 Super quick, super yummy and the red and green contrasts wonderfully with the yellow of the eggs! Especially wonderful use of asparagus.




Mr Breakfast would like to thank kadoerge for this recipe.

Recipe number 1385. Submitted 11/5/2004.