Breakfast Rice (Hot Cereal)

(4 servings)

4 cups cooked rice
milk (a couple Tablespoons per serving)
sugar (1 or 2 Tablespoons per serving)
butter (to taste per serving)
cinnamon (a sprinkle per serving)
This hot cereal was tasty and very comforting. It reminded me of being a kid, even though I have no concrete memories of eating rice for breakfast in my youth. Preparation is incredibly simple if you have leftover rice. If desired, a spoonful of raisins in each serving is a nice addition. The recipe as submitted didn't specify exact ingredient amounts. Following the recipe, I'll list the amounts that I used. In the end, this is basically a fun and different way to enjoy rice. I recommend it. (This recipe was submitted in 2004. It was tested and photographed in August 2014.)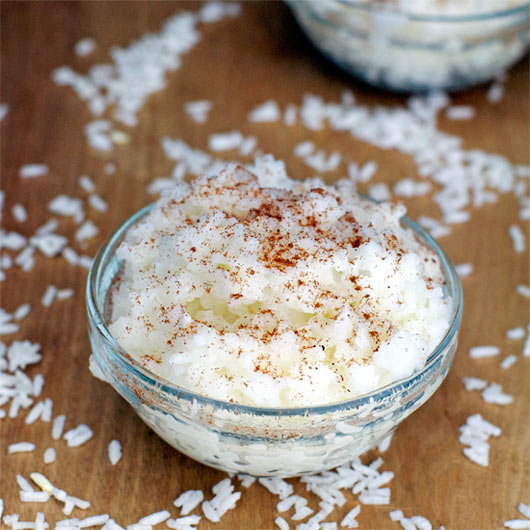 How To Make Breakfast Rice (Hot Cereal)

If the rice is cold, put in the top of the double boiler with the other ingredients and heat until it reaches a nice serving temperature. If rice is already hot, put in individual bowls and just add the other ingredients and mix.

I add the cinnamon last and and stir to make a swirl pattern so it looks nice.


Additional Note From Mr Breakfast:

For the 4 cups of of rice, I used 3 Tablespoons milk, 1 Tablespoon sugar and 1 Tablespoon butter. I topped each serving with a sprinkle of a 50/50 cinnamon and sugar mix. When it comes to sugar, a little goes a long way. It only takes bit to sweeten it, so I suggest starting with about 1 teaspoon per serving and increasing from there as you see fit.


Try using brown sugar in place of the regular sugar and a Tablespoon of maple syrup in place of the cinnamon for a different variation.




Mr Breakfast would like to thank MamaMia for this recipe.

Recipe number 1351. Submitted 9/24/2004.