Wake-Up Casserole

(8 servings)

8 frozen hash brown patties
4 cups (16 ounces) shredded Cheddar cheese
1 pound (2 cups) cubed or diced fully cooked ham
10 large eggs
1/2 cup milk
1/2 teaspoon salt
This is a tasty, reliable meat and potatoes breakfast. It's incredibly easy to make. Some people might find it a bit too cheesy (if that's really possible). I'd consider reducing the shredded cheese to 3 and 1/2 cups next time. I served the casserole you see here for Easter brunch and it was received with smiles and enthusiastic thumbs-up. This is also a great base recipe to play with other ingredients. I could see a couple Tablespoons of finely diced onion, green pepper or jalepeno working really well. Just sprinkle any additions over the cheese and ham. (This recipe was submitted in 2004. It was tested and photographed in April 2014.)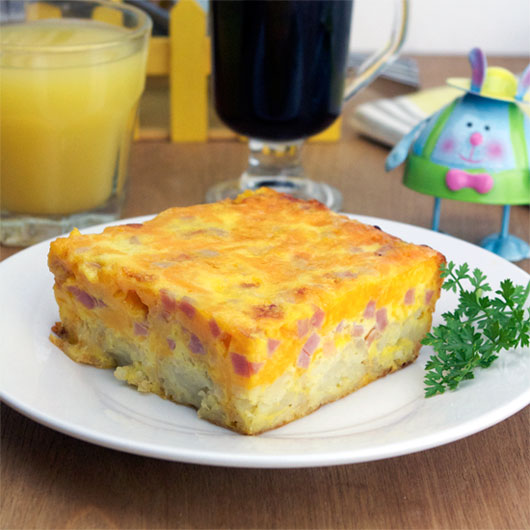 How To Make A Wake-Up Casserole

Place hash brown patties in a single layer in a greased 9 x 13-inch baking dish. Sprinkle with cheese and ham. In a bowl, beat eggs, milk, and salt. Pour over ham. Cover and bake at 350 degrees F for 1 hour. Uncover: bake 15 minutes longer or until edges are golden brown and a knife inserted in the center comes out clean.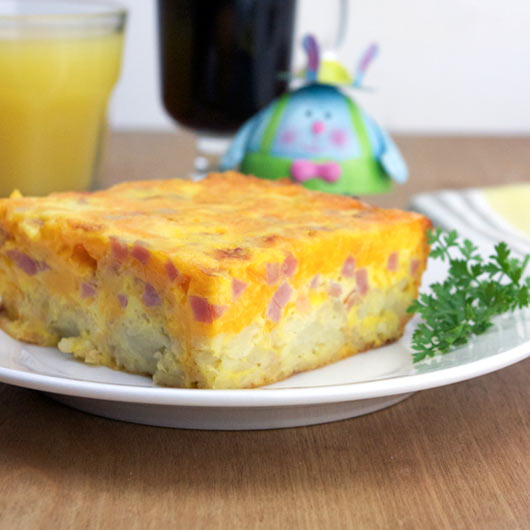 Cooking Note From Mr Breakfast:

Instead of hash brown patties, I used Ore Ida Crispy Crowns which are about the same thickness as hash brown patties but are shaped like coins. I found that they worked great and you could really cover the the bottom of the casserole dish evenly with them.

This casserole is just as good as reheated leftovers. Just microwave individual servings for about 30 seconds.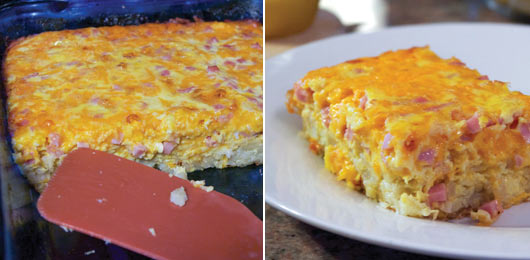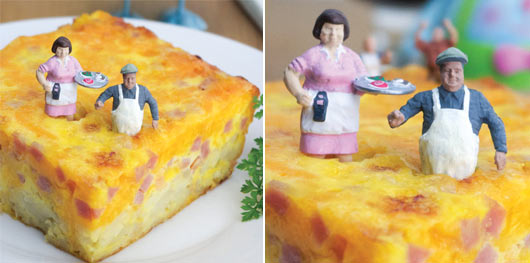 This can be prepared the night before. Simply assemble the casserole, cover with foil and refrigerate overnight. Preheat oven when you wake up and bake according to directions.




Mr Breakfast would like to thank dixie_tn1 for this recipe.

Recipe number 1320. Submitted 8/9/2004.