Apple Cinnamon Waffles

(6 servings)

2 cups all-purpose flour
3 Tablespoons sugar
2 teaspoons baking powder
1/2 teaspoon salt
2 large eggs - separated
1 and 1/4 cups milk
1/3 cup vegetable oil
1 apple - finely sliced
2 teaspoons cinnamon
I liked this recipe quite a bit. It has loads of flavor and no matter how small you dice the apples, you still get bites with just the lightest welcome crunch. I topped my servings with pure maple syrup. Like I always say... if you take the time to make waffles from scratch, you should top them with the good stuff. Walnuts made the perfect garnish. I got 5 (almost 6) round waffles from the ingredients listed. Thanks to 'Sarah_12' for giving us this recipe. (Tested and photographed by Mr Breakfast in June 2013.)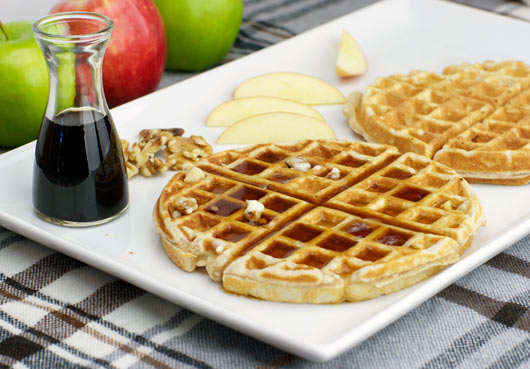 How To Make Apple Cinnamon Waffles

Sift together flour, sugar, baking powder, and salt. Set aside.

In a small bowl, beat egg whites until stiff; set aside.

In a medium bowl, beat egg yolks well. Stir in milk.

Add sifted dry ingredients to egg yolks and mix until moistened (be careful not to over mix).

Add vegetable oil. Fold in egg whites.

Pour cinnamon in mixture. Stir.

Add apples. Blend lightly into mixture.

Bake in preheated waffle maker for at least 4 to 5 minutes, until crisp and brown.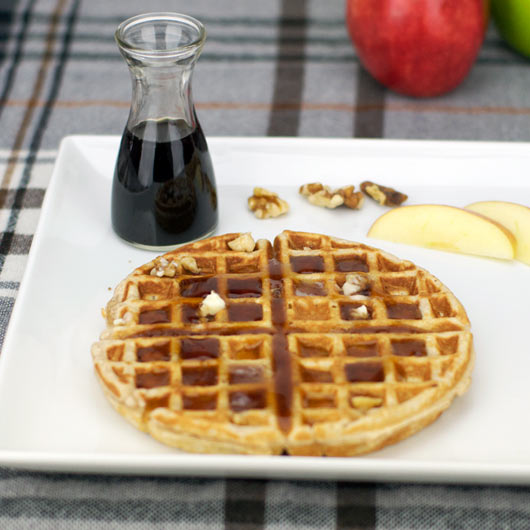 You can also try adding different fruits and spices instead of apple and cinnamon. For toppings, maple syrup is great, as is apple sauce and a dollop of whipping cream.




Mr Breakfast would like to thank Sarah_12 for this recipe.

Recipe number 1309. Submitted 7/25/2004.