Chocolate Peanut Butter

(20 servings)

1-1/2 cups smooth peanut butter
1/2 cup semisweet chocolate chips - melted
1/4 cup butter - softened
1/4 cup confectioners sugar
1 Tablespoon strong coffee
1 teaspoon vanilla extract
I thought this tasted super good, but I'm not too sure that I'd make it again. Someone in the comments mentioned that it reminded them of Nutella. I agree with that, but I think Nutella is better if you have it. While the flavor of this spread was fantastic, the texture was just a little goofy - somewhere between peanut butter and buttercream frosting. I tried the recipe with both smooth and crunchy peanut butter. I preferred crunchy. My favorite application for this spread was as a filling for crepes. A+ for flavor. B- for texture. (This recipe was submitted in 2004. It was tested and photographed in October 2015.)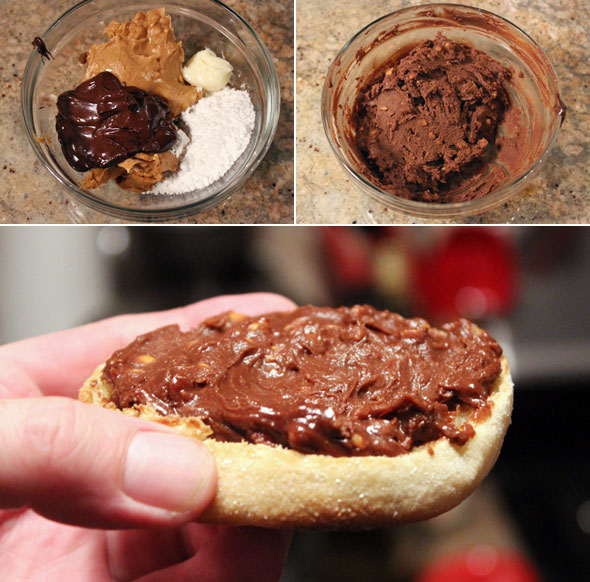 How To Make Chocolate Peanut Butter

In a large bowl, combine the peanut butter, melted chocolate, butter, sugar and vanilla. Stir until smooth.

Stir coffee into peanut butter mixture.

Store in an airtight container for up to two weeks.


Put this on toast, or even pancakes, in the morning. Kids go crazy for it - might be the Tablespoon of coffee. LOL.




Mr Breakfast would like to thank KennyRogers for this recipe.

Recipe number 1270. Submitted 6/24/2004.