Walnut Muffins With Coffee Icing

(12 servings)

FOR THE MUFFINS:
3/4 cup quick-cooking oats
1/4 cup warm water
1 and 1/2 cup all-purpose flour
1/2 cup sugar
1 and 1/2 teaspoon baking powder
1 teaspoon ground cinnamon
1/4 teaspoon salt
2 egg yolks + 1 whole egg - beaten
1/2 cup milk
1/3 cup canola oil
2 Tablespoons butter - softened
1/4 cup raisins
1/2 cup walnut pieces - toasted


FOR THE ICING:
1 and 1/2 cup powdered sugar
4 Tablespoons butter - softened
1 and 1/2 Tablespoons milk
1 Tablespoon instant coffee granules
1/4 teaspoon vanilla extract
For this recipe to be great, you should really take the time to toast the walnut pieces before adding them to the batter. I used a toaster oven at 375 and toasted them until they were fragrant and toasty brown - about 8 minutes. The sweet icing (probably better called "frosting") pairs wonderfully with the healthier tasting muffin base. If I made these again, I would probably increase the milk by 1/4 cup as they could have been more moist for my liking. All in all, I was happy with how these turned out. (This recipe was submitted in 2004. It was tested and photographed in July 2014.)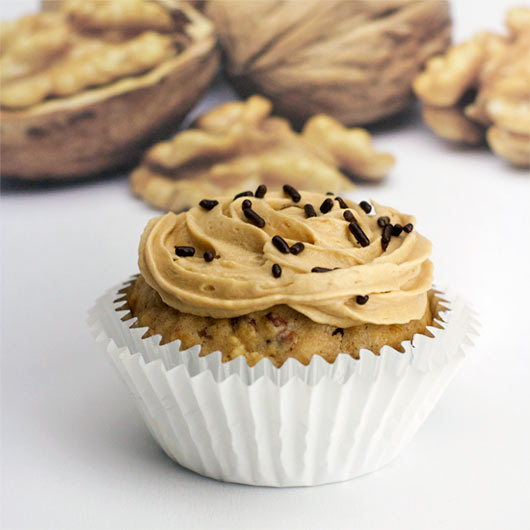 How To Make Walnut Muffins With Coffee Icing

Stir together oats and warm water, let stand for 5 minutes.

In a separate bowl, mix together the flour, sugar, baking powder, cinnamon and salt. Set aside.

In another bowl, beat the egg and egg yolks. Add the canola oil and milk and beat until well blended. Stir in the oat mixture and melted butter.

Add the wet ingredients to the dry ingredients and stir until just mixed and moistened. Fold in the walnuts and the raisins.

Prepare 12 muffin cups with papers or cooking spray. Fill cups to 2/3 full.

Bake at 350 for 25 to 30 minutes, or until a toothpick inserted into a muffin comes out free of batter.

Let cool before applying icing.

To make the icing: simply whip all the icing ingredients together. Apply to each muffin generously.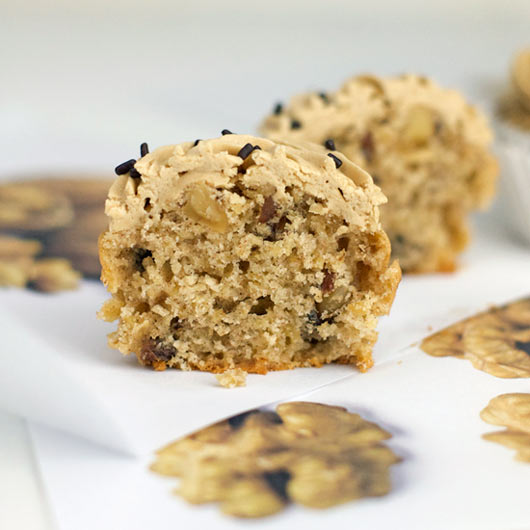 Cooking Notes From Mr Breakfast

To make the muffins more moist, consider using a combination of sour cream or plain or vanilla yogurt as part of the milk component.

When making the icing, use an electric beater. It takes a while. After a minute or two, it's amazing how the ingredients swirling around in the bowl suddenly turns into a fluffy frosting.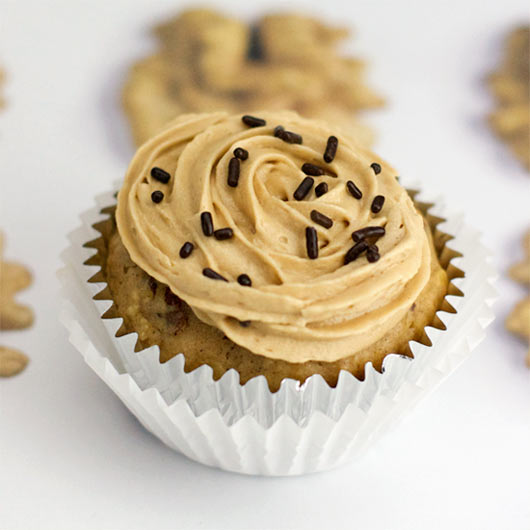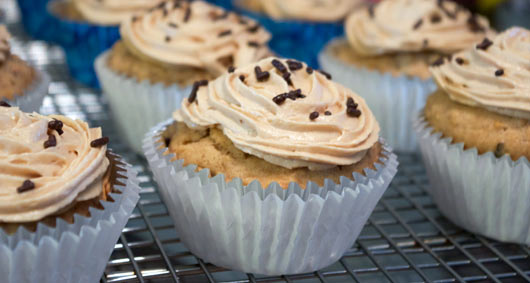 Deliciouso! The raisins are optional. Everybody raves about the icing which could be used over pretty much any muffin you'd want to make.




Mr Breakfast would like to thank leprican_katie for this recipe.

Recipe number 1228. Submitted 4/18/2004.