Overnight Caramel French Toast

(5 servings)

1 cup packed brown sugar
1/2 cup butter
2 Tablespoons light corn syrup
12 slices white or whole wheat bread
1/4 cup sugar
1 teaspoon cinnamon - divided
6 large eggs - beaten
1 and 1/2 cup milk
1 teaspoon vanilla
I think my wife put it best when she said, "Holy Cow! This tastes just like a sticky bun." Only she was so excited, she didn't say "cow". It's not the prettiest baked French toast I've ever made, but it is one of the best tasting. It's very sweet and filling, so make sure to set aside a few hours later in the day to exercise. The only change I made to the recipe as submitted was to use a 12x8 baking dish (It worked fine). I used almost an entire loaf of French bread... everything but the butts. (Recipe submitted in 2002. It was tested and photographed in December 2013.)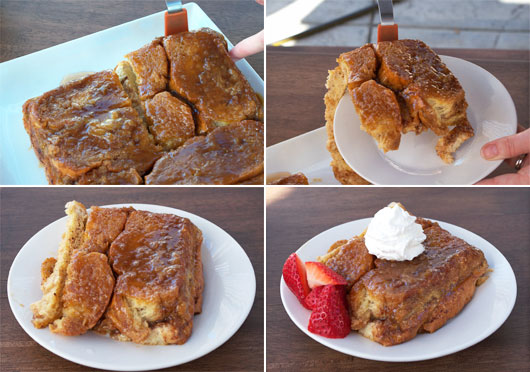 How To Make Overnight Caramel French Toast

Lightly grease up a 13x9x2" baking dish; set aside.

Bring brown sugar, butter and corn syrup to a boil. Remove from heat; pour into baking dish. Top with 6 slices bread; sprinkle with combined sugar and 1/2 teaspoon cinnamon. Top with remaining bread.

Beat eggs, milk, vanilla and remaining cinnamon; pour over bread. Cover and refrigerate overnight.

Remove dish from refrigerator; preheat oven to 350 degrees. Bake 30 to 35 minutes.

To serve: Carefully invert the baking dish onto a serving platter so the beautiful caramel is on the top.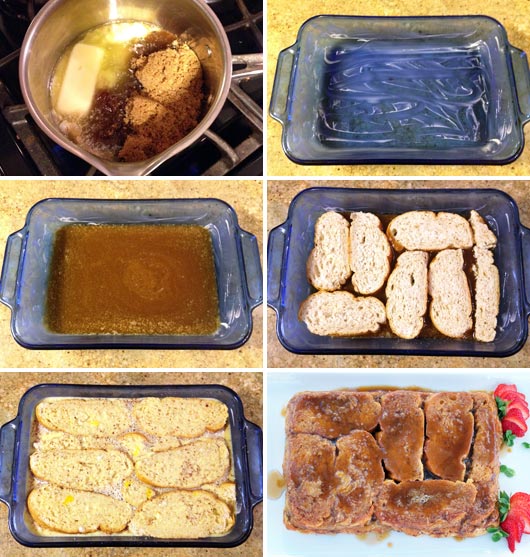 An overnight baked French toast that tastes a lot like decadent sticky buns.




Mr Breakfast would like to thank Mr Breakfast for this recipe.

Recipe number 121. Submitted 4/27/2002.