Scotch Eggs

(4 servings)

1 pound bulk pork sausage
1 Tablespoon fresh parsley - chopped
1 Tablespoon grated onion
1/4 teaspoon ground cinnamon
1/8 teaspoon ground nutmeg
4 hard-cooked eggs - shelled
1/2 cup fine dry breadcrumbs
Combine sausage, parsley, onion, cinnamon and nutmeg; mix well. Divide sausage mixture into 4 portions; shape into patties. Place one egg atop each patty, shaping the sausage mixture around egg till completely covered. Roll each sausage-covered egg in breadcrumbs. Bake in a preheated 350 degree F. oven for 15-20 minutes until golden brown.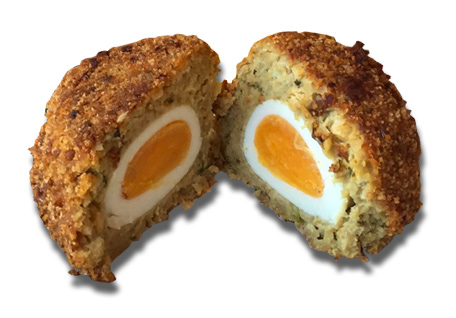 About This Recipe:
Scotch Eggs are a favorite hunting, fishing and tailgating breakfast in the Southern USA. They are portable and delicious. In Scotland where the dish originated, Scotch Eggs are especially popular at picnics where they are eaten cold.


So fattening but so good! From Scotland. Hard-boiled eggs wrapped in sausage, coated in breadcrumbs and deep-fried. Great served hot or cold.




Mr Breakfast would like to thank MrFrenchStewart for this recipe.

Recipe number 118. Submitted 4/27/2002.