Coconut Granola

(7 servings)

4 cups old fashioned oats
1 cup flaked coconut
1/4 cup chopped walnuts
1/4 cup wheat germ
1/4 cup sunflower seeds
1/4 cup raisins
1/4 cup margarine
1/4 cup brown sugar
1/4 cup honey
2 Tablespoons vegetable oil
1 teaspoon vanilla extract
2 teaspoons maple syrup
1/4 teaspoon salt
I love this granola for kind of a weird reason. I like to mix in with store-bought cereals to get interesting new flavors. I've especially enjoyed it mixed with Chex cereals lately. It's wonderful on it's own, but I prefer a granola with a few clusters if I'm eating straight-up granola. This one is a bit more loose. If you want to get more clusters from the recipe, I'd recommend adding 1/2 cup flour in with the oats. But if you're in the mood to try something different, take my advice... whip up this recipe and throw some in bowl of almost any cereal. You'll be surprised how it transforms the taste for the better. This recipe was submitted by 'Stephanie' in 2003. It was tested and photographed in August 2013.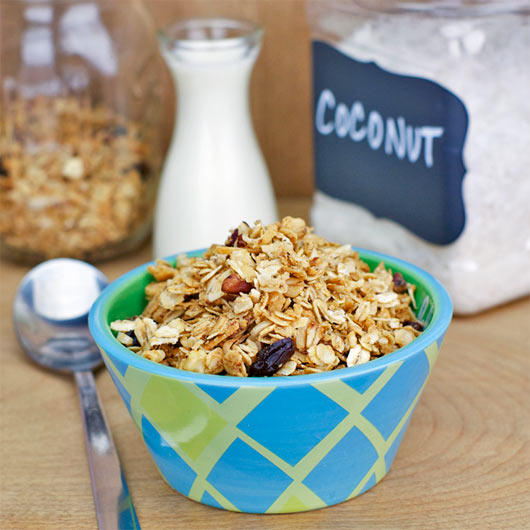 How To Make Coconut Granola

In a large bowl combine the oats, walnuts, wheat germ, sunflower seeds and coconut. In a saucepan, on medium heat, stir margarine, brown sugar, honey, oil, flavorings, and salt together until well mixed. Pour over oat mixture and stir to coat evenly. Pour onto a well-greased baking pan.

Bake at 275 degrees for 1 hour or until golden brown, stirring occasionally.

Remove from oven and let cool before storing in an airtight container.

This makes about 7 cups of cereal.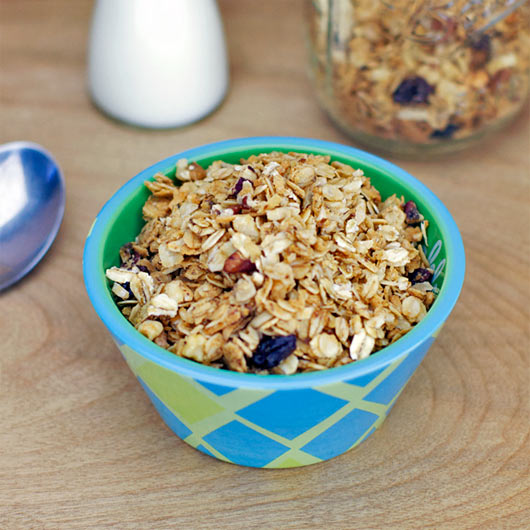 Crunchy, golden and tasty. You can replace the walnuts with any kind of nut. You could also replace the raisins with dried cranberries. Experiment and enjoy!




Mr Breakfast would like to thank Stephanie for this recipe.

Recipe number 1153. Submitted 12/3/2003.