Maple Walnut Oatmeal

(4 servings)

3 and 1/2 cups low-fat milk
2 cups quick or old-fashioned oats
1 cup chopped apple - unpeeled
1/4 cup maple syrup
1/2 cup raisins
1/2 cup chopped walnuts
1 Tablespoon butter
1/8 teaspoon salt (optional)
This is a reliable stove-top oatmeal recipe that can be easily modified to fit your tastes. From experience, I know that pure maple syrup can get drowned out in a recipe like this. I replaced the maple syrup with 1/4 cup of brown sugar and about 1/8 teaspoon of maple extract. That provided a nice amount of maple flavor. Pure maple syrup is so expensive. I'd rather save mine for pancakes or waffles where the taste won't be lost. The walnuts in this recipe could be replaced with chopped pecans or sliced almonds. The apple could be be replaced by banana. You could even add a small handful of chocolate chips. Once the basic oatmeal is made, give it a taste and go from there. It's a fun recipe to build on. (This recipe was submitted in 2003. It was tested and photographed in September 2015.)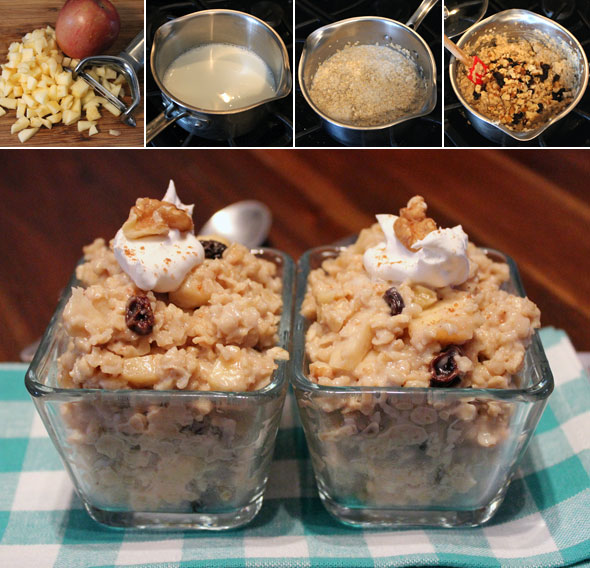 How To Make Maple Walnut Oatmeal

In a medium saucepan, bring milk to a gentle boil; stir in oats. Add butter (and salt if desired).

As soon as it begins to boil again, reduce the heat to medium and cook for the amount of time directed on the oatmeal package (usually about 5 minutes). Stir often.

Remove from heat and add maple syrup, raisins, walnuts, and apple. Mix well. Cover and let sit for 3 minutes.

Serve with additional maple syrup, a little milk and sprinkle with brown sugar.


This is like the deluxe version of the maple and brown sugar instant oatmeal that comes in those little packets. I try to serve oatmeal once a week. It's Heart Smart!




Mr Breakfast would like to thank egghead for this recipe.

Recipe number 1103. Submitted 10/19/2003.