Maple Cranberry Oatmeal

(4 servings)

3 and 1/2 cups low-fat milk
2 cups rolled oats (quick or Old Fashioned) - uncooked
1/2 cup dried cranberries (or any other dried fruit if you prefer)
1/3 cup maple syrup (1/4 cup if using pure maple syrup which is much sweeter than most store brands)
1/4 cup toasted wheat germ
1/4 teaspoon salt
Here's a recipe that's been on the site for about 10 years. I finally got around to trying it this morning (June 2013). It's really very good. The maple syrup adds just the right amount of sweetness and the wheat germ adds a welcome, suprising nuttiness. I personally recommend this one. - Mr Breakfast


How To Make Maple Cranberry Oatmeal

In medium saucepan, bring milk and salt right to the verge of boiling (reduce heat slightly if it starts to boil). Slowly, stir in oats, cranberries and maple syrup.

After a minute, reduce heat to medium-low. Cook for an additional minute if using quick oats and 5 more minutes if using Old Fashioned oats. Stir often.

When the milk is nearly all absorbed by the oats, remove from heat and cover. Let stand for 3 minutes then stir in the wheat germ.

Serve with additional maple syrup and a little butter or yogurt.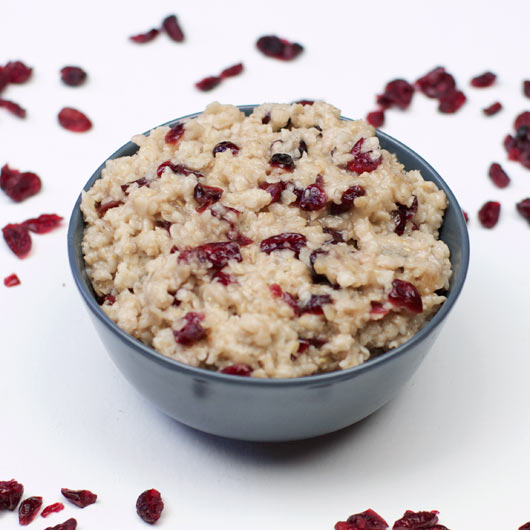 Cooking Note:
To toast wheat germ, spread it out over a baking pan and bake at 350 degrees for about 5 minutes. Alternatively, you could place it in a skillet over medium-high heat. Stirring often, cook until fragrant - about 4 minutes.

Ready in under 10 minutes, this oatmeal gets a lot of flavor from cranberries, maple syrup and toasted wheat germ.




Mr Breakfast would like to thank egghead for this recipe.

Recipe number 1102. Submitted 10/19/2003.