Three-Cheese Fritatta

(1 serving)

3 large eggs
1 Tablespoon milk
2 Tablespoons Cheddar cheese
2 Tablespoons jalepeno Jack cheese
2 Tablespoons Mozzarella cheese
1 Tablespoon red or green pepper - diced
salt and pepper - to taste
This recipe was submitted by "angseu" way back in 2003. Jump ahead to December 2012 and I finally got around to trying it myself. The recipe as written (below) turned out great and definitely cheesy, but here's a couple tips. Make sure you dice your pepper very small as it won't soften very much during cooking. You might consider sauteing the diced pepper in a Tablespoon of butter and then adding the egg mixture to that - giving it a quick stir right away in the pan.

I like to flip the entire fritatta in the pan when it's almost fully set. Then I sprinkle it with cheese, cover it and turn off the heat. When the cheese is melted, it's ready to be served. As you can see from the pictures, I served it with toasted pita bread. It turned out that a piece of pita was the same exact size as my fritatta.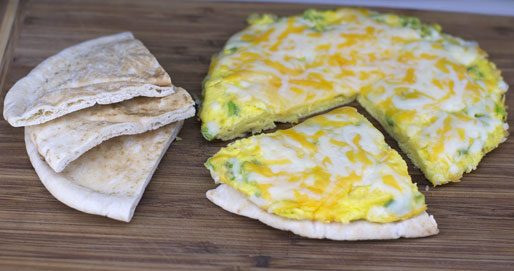 How To Make A Three-Cheese Fritatta

Beat the 3 eggs with the milk. Season as desired with salt and pepper. Stir in the diced bell pepper.

Place a frying pan over medium heat and grease with cooking spray or butter.

Add the eggs to the frying pan. Sprinkle with the cheeses and cover.

This will cook fairly fast so you'll want to keep checking on it.

When it's done, slide it out of the pan onto a plate and garnish with addition diced red peppers if desired.

Serve and enjoy.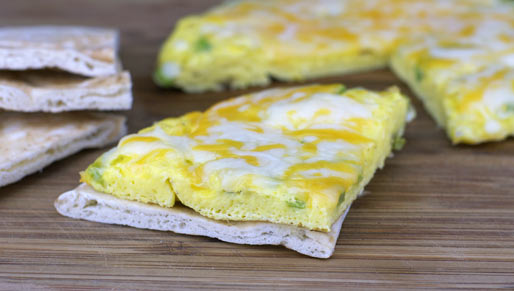 A must-try for cheese lovers. This fritatta has Cheddar, Jack and Mozzarella cheese. A little red or green pepper adds color and a certain freshness.




Mr Breakfast would like to thank angseu for this recipe.

Recipe number 1075. Submitted 9/16/2003.