Banana Oatmeal Bread

(12 servings)

2 large mashed ripe bananas
1 cup old-fashioned oats
2 cups all-purpose flour
1/2 cup milk
1 cup brown sugar - packed
1 large egg
2 additional large egg whites
7 Tablespoons vegetable oil
1 Tablespoon baking powder
1/2 teaspoon baking soda
1/2 teaspoon salt
1/2 teaspoon ground cinnamon
I made this recipe almost exactly as submitted. The only changes I made from the ingredients above was to use melted and cooled butter instead of the vegetable oil. I also opted for 2 whole eggs instead of 1 egg and 2 egg whites. I found the bread to be terrific. As the submitter stated, it's best when warm with a pat of butter, but it's also great just on it's own. (This recipe was submitted in 2003. It was tested and photographed in December 2013.)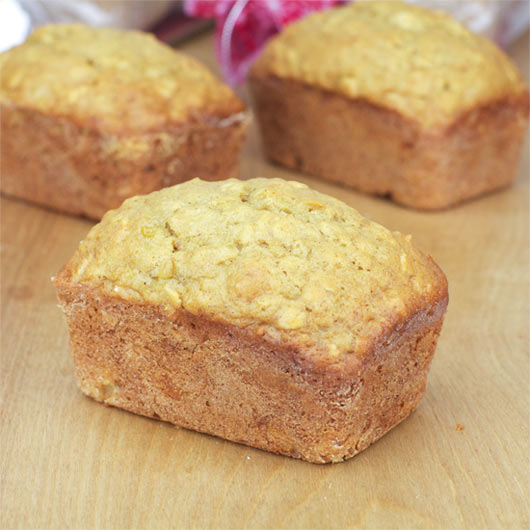 How To Make Banana Oatmeal Bread

Preheat oven to 350 degrees.

Combine brown sugar, vegetable oil and all eggs in a large bowl; beat well at medium speed with mixer.

In a separate bowl, combine banana, oats, and milk; add this mixture to the sugar mixture, beating well.

In yet another bowl, combine flour, baking powder, baking soda, salt, and cinnamon; stir with a whisk. Add this to sugar and oats mixture; beat until just moist. Spoon batter into a 9 x 5-inch loaf pan coated with cooking spray.

Bake at 350 degrees for 1 hour and 10 minutes or until a wooden pick inserted in center comes out clean.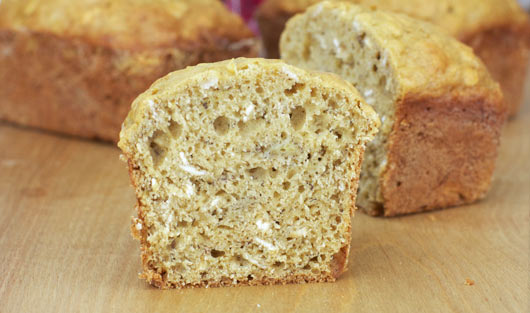 Cooking Notes From Mr Breakfast

I made this bread as part of holiday gift packs I was giving out. I made mini-loaves, of which this recipe made 8. The mini-loaves took 30 minutes at 350 degrees. The only change I'd make in the future might be to add a handful (about 1/3 cup) of chopped walnuts to the batter.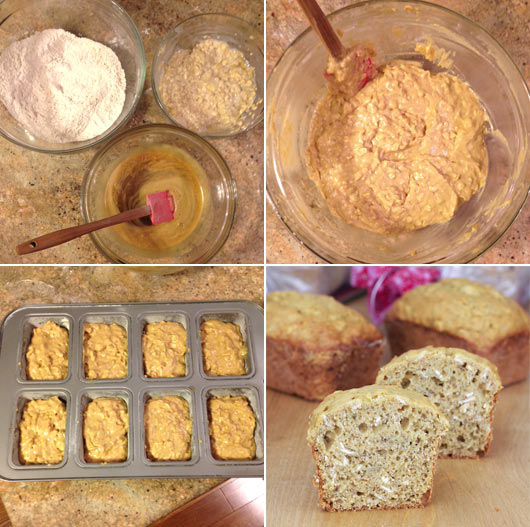 Best when served hot with a pat of butter. You could replace 1/3 of the all-purpose flour with whole wheat flour if you like. The bread is a little more crumbly, but tastes just as good.




Mr Breakfast would like to thank IrishGirl for this recipe.

Recipe number 1061. Submitted 9/8/2003.