Baked Powdered Donut Holes

(15 servings)

2 cups all-purpose flour
1 large egg
2 Tablespoons vegetable shortening or softened butter
1/2 cup sugar
1/2 teaspoon salt
1 Tablespoon baking powder
1/2 teaspoon ground nutmeg
3/4 cup milk
1/2 cup finely chopped walnuts - optional
1/4 cup powdered confectioners sugar
1/2 teaspoon ground cinnamon
1/4 cup butter - melted
This recipe was originally submitted under the name "Baked Walnut Doughnut Holes". I changed the name because walnuts are an optional ingredient. I made these as both donut holes and as mini-donuts. I sent them to my daughter's preschool and all the kids loved them. I liked them best immediately after the powdered sugar was applied. The sugar coating tends to fall off somewhat as the donuts are handled or transferred. But they still taste really good even if the sugar coating is minimal. (This recipe was submitted in 2003. It was tested and photographed in August 2017.)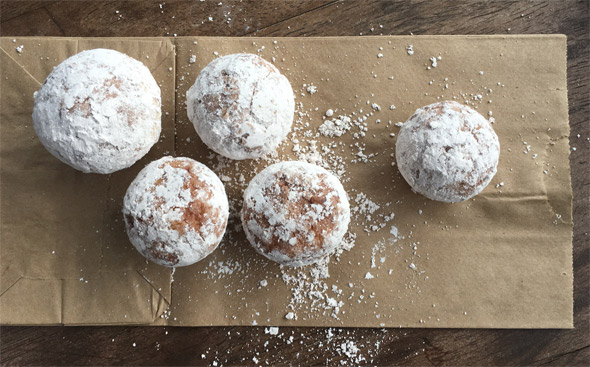 How To Make Baked Powdered Donuts

Preheat oven to 400 F.

Prepare mini-muffin tin (makes about 24) with cooking spray and a light coating of flour.

In a small bowl, sift the flour, salt, baking powder and nutmeg together.

In a separate bowl, cream together the shortening, white sugar and egg until light and fluffy.

Add the flour mixture alternately with the milk to the creamed mixture.

Stir until it becomes fairly stiff.

Drop by tablespoon into the muffin pan cups.

Bake for 20 minutes.

Combine the powdered sugar, nuts and cinnamon in a paper lunch bag. Dip the top of the doughnut in the melted butter. Then shake 2 or 3 at a time together in the bag with the sugar mixture.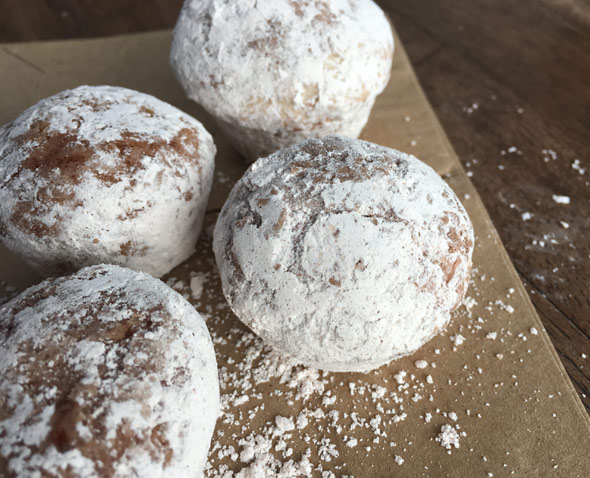 Cooking Note From Mr Breakfast

My cooking times were 19 minutes for donut holes and 12 minutes if using a donut pan. I was able to get about 12 donut holes and 30 mini-donuts from this recipe.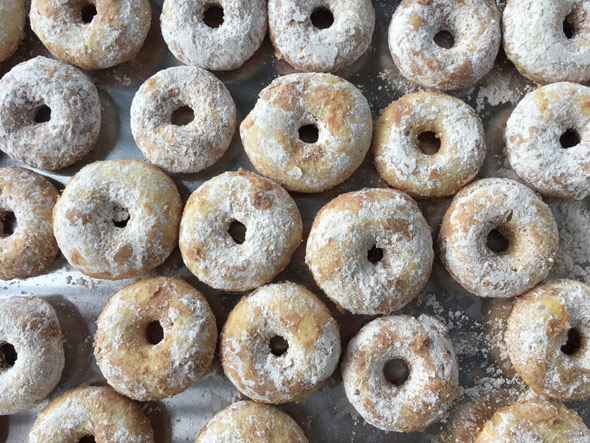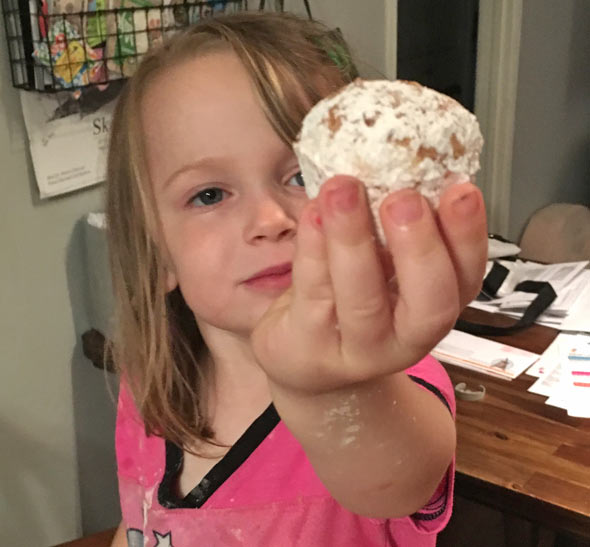 This also works with regular muffin tins... you just don't get that mini-doughnut shape. Enjoy!




Mr Breakfast would like to thank IrishGirl for this recipe.

Recipe number 1056. Submitted 8/30/2003.