Ham And Cheese Quiche

(8 servings)

1 cup of chopped ham
2 cups of light cream
4 large eggs
1 cup or less of grated Cheddar cheese
1 teaspoon flour
salt and pepper - to taste
1 deep dish pastry shell
This is sort of a no-nonsense, working man's quiche. The ingredients are simple and preparation and clean-up are a breeze. If you wanted, you could add 1/4 cup of sauteed vegetables or make changes to the meat and cheese you use. I stuck to the recipe as submitted and really liked the results. The only change I made was reducing the light cream (I used half & half) to 1 and 1/2 cups because I used a regular pie pan instead of a deep dish one. (This recipe was submitted in 2003. It was tested and photographed in June 2014.)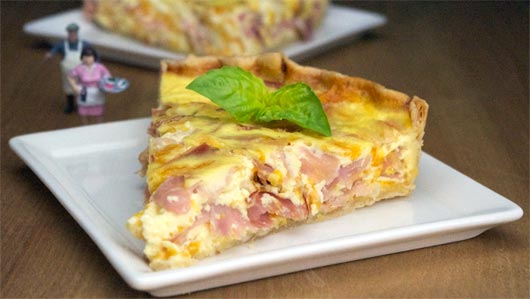 How To Make A Ham And Cheese Quiche

Beat the 4 eggs. Whisk in the light cream until well blended. Stir in the flour, salt, pepper, cheese and ham.

Pour into pastry shell and bake in preheated at 375 degrees oven for 50 to 50 minutes. Enjoy!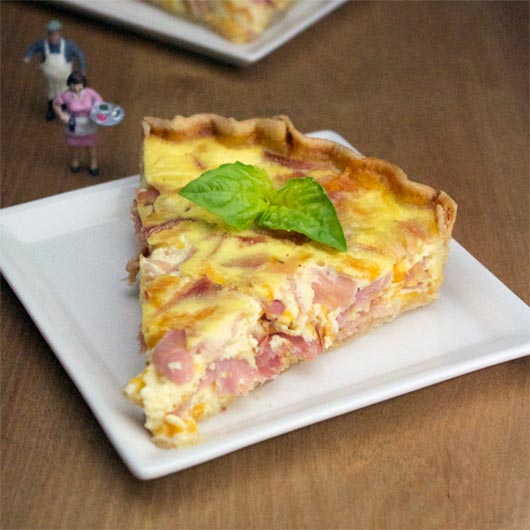 Cooking Notes From Mr Breakfast:

For best results, par-bake your crust for 8 to 10 minutes before filling. Poke a few holes in the bottom of the crust with a fork first to prevent it from warping.

After 50 minutes of cooking the filled quiche, I found that it was fully cooked and the egg had a soft, scrambled-egg-like texture. At 60 minutes, the egg was more firm, producing a quiche that would still hold together well at room temperature (European style).

You can fill the pie crust to the brim with the egg mixture. You may have a little egg mixture left-over. I ended up with about 1 Tablespoon more than I needed.


You can go crazy with this easy recipe... like instead of ham you can add almost anything. Try mushrooms or bacon or even your favorite veggies.




Mr Breakfast would like to thank tigerlilly for this recipe.

Recipe number 1046. Submitted 8/7/2003.