Ham & Bacon Scramble

(3 servings)

4 large eggs (or 6 egg whites)
1/3 cup milk
1 pinch dill
salt and pepper - to taste
1/2 cup cubed cooked ham
1/2 cup cooked and crumbled bacon
1/4 cup diced tomato (optional)
This recipe was submitted to the site by "Violet86" back in 2003. Fast-forward to March 2013 and I finally got around to trying it and taking some photos. I halved the recipe. The only real changes I made were to reduce the milk to 2 Tablespoons and to add a little shredded cheese at the end. It was easy to make. Bacon was the the most prominent flavor. All in all, this recipe was delicious and satisfying.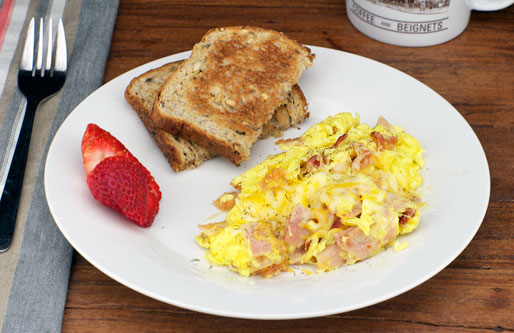 How To Make A Ham & Bacon Scramble

Break eggs in a cup or a bowl. Beat well. Add the milk, dill, salt, pepper, bacon and ham. Stir to combine.

Melt about a Tablespoon of butter in a medium frying pan over medium heat. Add the egg mixture. Let set for about 20 seconds and then stir and scramble until the egg is fully set.

Serve warm. If desired, spice it up by adding a dash of hot sauce to each serving.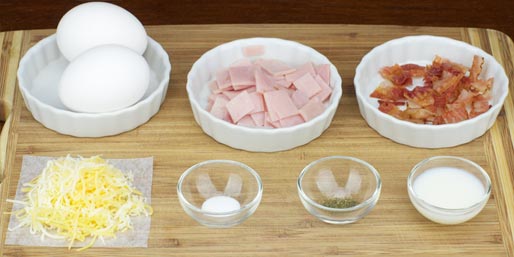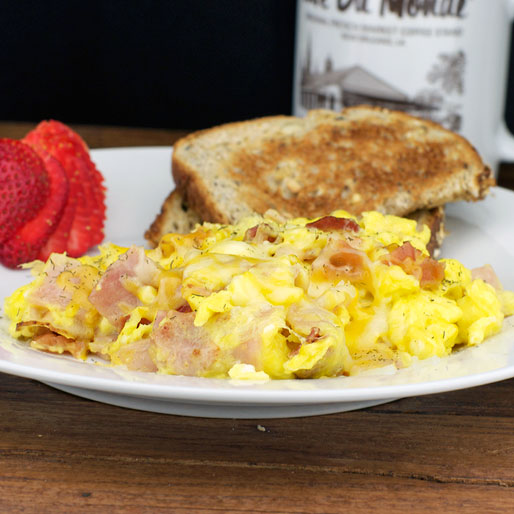 This is my favorite breakfast dish! I love to make it because it is quick and easy and tastes wonderful! It goes great with toast!




Mr Breakfast would like to thank Violet86 for this recipe.

Recipe number 1038. Submitted 7/10/2003.