Corn Flake French Toast

(2 servings)

1/3 cup crushed corn flakes
4 slices of white bread
2 large egg
1/3 cup milk
2 teaspoons sugar
1/4 teaspoon cinnamon
1/2 cup flaked coconut - optional
3 Tablespoons butter
It's very easy to turn regular French toast into amazing French toast just by dragging it through some breakfast cereal. The corn flakes add a light crunch that tastes great and looks interesting and fun. This recipe also works great with cinnamon raisin bread. Enjoy!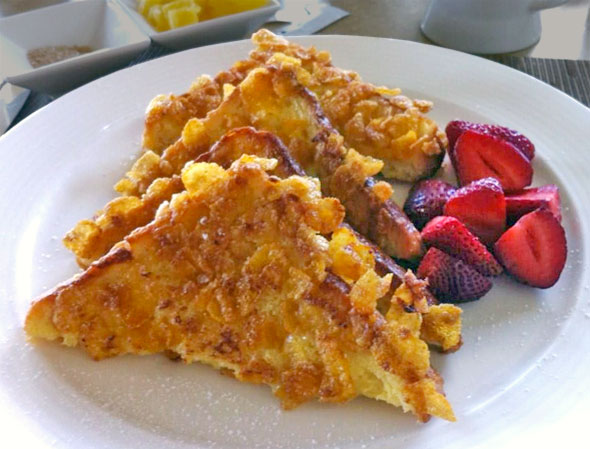 How To Make Corn Flake French Toast

In a medium bowl, whisk together eggs, milk, sugar and cinnamon.

In a shallow bowl or on a plate, spread out the crushed corn flakes. If using coconut, mix it together with the corn flakes.

Please Note: If you decide not to use the optional coconut, you should increase the amount of corn flakes to about 3/4 cup.

Heat butter in a skillet over medium heat.

Dip each slice of bread in egg mixture, then in the the crushed corn flakes.

Brown in skillet until light golden brown on both sides.

Serve with maple syrup, honey or jam.


This French toast had a mild crunch that makes it very special. Coconut is optional but recommended.




Mr Breakfast would like to thank CornFlake for this recipe.

Recipe number 1014. Submitted 6/5/2003.