Corn Flake Wreaths

(16 servings)

1/3 cup margarine (or butter)
1 package regular marshmallows (approx. 10 oz)
6 cups corn flakes
red heart cinnamon candies
1 teaspoon green food coloring
cooking spray
Melt margarine over low heat in a medium saucepan. Add marshmallows and stir until completely melted.

Remove from heat. Stir in food coloring.

Add corn flakes. Stir until all the flakes are well coated. (It's okay if a few get crushed.)

On 2 lightly greased flat pans, evenly portion warm cereal mixture in small three to four inch rounds. Using butter fingers (fingers coated with butter), quickly shape into individual wreaths. Dot with cinnamon candies to decorate.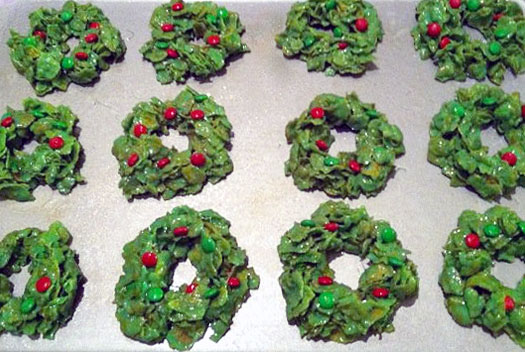 Note: Instead of cinnamon candies, you could use red and green M&Ms or any small red candies you like.

This holiday favorite is a real treat for little kids. Let them help you make them for a fun time!




Mr Breakfast would like to thank CornFlake for this recipe.

Recipe number 1008. Submitted 6/5/2003.