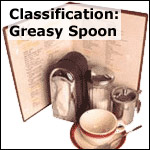 On State Street between Glenwood and Veterans Parkway
Average Overall Rating:

Average Coffee Refill Rating:

Average Expense Rating:

Review by:
tamie
on 12/21/2011
| | |
| --- | --- |
| Coffee Refill Rating: | |
| | |
| --- | --- |
| Expense Rating: | |
There are few restaurants that have survived as long as Merrits has,for good reason. I love it there the food is mostly made from scratch, lots of it and the atmosphere is way fun! The scones are made with yeast,like my mom would make bread. I worked there years ago and was treated very well.No rats were cooked in the microwave when i was there and almost all tried to make it nice for guests.There are great stories to tell like the one about a mom going into labor while eating a scone which was her craving food,so every year on her sons birthday she would take there to eat scones.The place may not be perfect and high dollar but Merrits are still doing it right after all these years.
Award Nomination:
Best Breakfast Ever
Review #22880
Review by:
ginalouise
on 1/9/2011
| | |
| --- | --- |
| Coffee Refill Rating: | |
| | |
| --- | --- |
| Expense Rating: | |
Food was pretty good, the place looks to be 100 years old so they gotta know what they are doing! The place is not real clean so if you don't care about that - you will like whatever you order here! You have to try a scone!
Award Nomination:
Hugest Dump
Review #21782
Review by:
badger
on 11/20/2009
| | |
| --- | --- |
| Coffee Refill Rating: | |
| | |
| --- | --- |
| Expense Rating: | |
Anyone that believes the neg stuff about gross things going on in the kitchen needs to go to IHop and leave the good folks at Merrits to do what they do best. Merrits is an Americana Icon. You can go in here on a Sunday morning and find an older woman with 10k in jewelry sitting one table away from a bunch of tatted head bangers. I've never seen a place draw such a diverse crowd and they've been doing it for years. Merrits was on the food channel because of their scones something they have been famous for since they first opened up in Meridian years ago before their move to Boise. I'm heading there now.
Award Nomination:
Best Breakfast Ever
Review #18620
Review by:
light56
on 7/2/2008
| | |
| --- | --- |
| Overall Rating: | |
| | |
| --- | --- |
| Coffee Refill Rating: | Doesn't Apply |
| | |
| --- | --- |
| Expense Rating: | |
I knew a guy who worked at Merrits and they would fry live rats for fun. They also put one in the microwave and didn't clean it. Lots of bugs too. I used to eat there until I found this out.
Award Nomination:
Hugest Dump
Review #14099
Review by:
ajcarl
on 2/23/2007
| | |
| --- | --- |
| Coffee Refill Rating: | |
| | |
| --- | --- |
| Expense Rating: | |
Merrit's is a perfect example of a greasy spoon. The food is good, there is parking for truckers, and the coffee flows 24 hrs/day. They are the "Home of the scone" and for good reason. Others (Granny's around the corner) have tried to copy but Merrit's scones are so good that they even sell the dry mix in packages. It's like a big fried doughnut that you can choose to fill or cover anyway you like. My favorite is just butter and honey. Their chicken fried steak is a killer--a huge piece of meat pounded, breaded, and fried. Then (here's the weird part) they put the meat on a plate of gravy. The gravy comes underneath the meat so you can sop it up. There's enough gravy to use on your potatoes too and they are good & filling as well. Overall, you can't go wrong here although some of the waitresses are just going through the motions. There is a young college-age blonde who seldom seems to work but is one of the most attentive (and cutest)servers I've seen anywhere. But she only seems to be there occasionally. The rest are nice enough and they keep your coffee cup full of decent java. I will keep going there as it's definitely good. It's an old dump, but I knew that when I drove up! And perhaps my cute waitress will be there this morning.
Review #9703
Review by:
camroc14
on 7/13/2006
| | |
| --- | --- |
| Coffee Refill Rating: | |
| | |
| --- | --- |
| Expense Rating: | |
If you live in or around Boise and you dont eat at merrits... you HAVEN'T lived in or around Boise as far as I'm concerned. whether you're getting out of the bar at 230, lookin for somethin to do at midnight... or just freakin hungry in the morning... you gotta go to merrits. period.
Award Nomination:
Most Comfortable
Review #7979
Review by:
mopjocky
on 12/16/2005
| | |
| --- | --- |
| Coffee Refill Rating: | |
| | |
| --- | --- |
| Expense Rating: | |
Best breakfast in Boise. Scones are awesome! Night staff are incredible. Open 24 hrs.
Award Nomination:
Best Bargin Breakfast
Review #6434
To write a review of your own for Merrits Country Cafe,
click here
.
Connect With Mr Breakfast:



Reviews submitted here are meant to pertain to breakfast only. While Mr Breakfast cannot vouch for the validity of each restaurant review, he feels pretty good vouching for the excellent character of the residents of Boise, Idaho - who are primarily responsible for the review(s) you see above for Merrits Country Cafe.