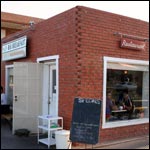 801 N. First St.
Average Overall Rating:

Average Coffee Refill Rating:

Average Expense Rating:

Review by: MrBreakfast.com Visitor on 10/27/2012


Matt's breakfast is the best! I've only been dissappointed once in the last year or so I've being going (and that was because I ordered something I didn't like). The food is always fresh with homemade jams, scrumptious waffles and french toast, home squeezed juices and nice size portions you can't go wrong.
Award Nomination:
Best Breakfast Ever
Review #23714
Review by:
bingothedog
on 10/21/2009


Very small restaurant.
There's always a line. On the weekend the line is beyond reasonable.
Food is average.
I don't really get what all the hub-bub is about.
Review #18354
Review by:
Lamborghini
on 8/27/2009


| | |
| --- | --- |
| Coffee Refill Rating: | Doesn't Apply |
I'm originally from Phoenix,AZ and saw Matt's Big Breakfast on the Food Network and was impressed at the site of how good the food looked. So, I decided to visit this place during my next visit to my hometown. I was in Phoenix during the first two weeks in August and decided to take my sister to breakfast, who happens to live there, but was not aware of Matt's. We were not disappointed. I ended up going back three times with three different goups of people who were also from Phoenix but didn't know about Matt's. I will be returning in Sept and plan to go again.
Award Nomination:
Best Breakfast Ever
Review #17886
Review by:
cmhanderson
on 7/5/2009


Sure, the line is ridiculous, and the restaurant is small and cramped but, the food is awesome! I have eaten there several times, and have never had a bad experiences. My husband even works right downtown and people in his office often get breakfast to go. The staff is extremely friendly, and as I said before, the food is delish!
Award Nomination:
Best Breakfast Ever
Review #17376
Review by: MrBreakfast.com Visitor on 6/15/2009


| | |
| --- | --- |
| Coffee Refill Rating: | Doesn't Apply |
bacon was great, crispy but not over cooked, the hash browns were terrible, mush comes to mind.
price was right, but that was it
Award Nomination:
Biggest Ripoff
Review #17209
Review by:
ShelleyAnne
on 2/3/2009


We had a great time, food excellent, coffee, yum and service faboo. We eat out all the time and found this restaurant through Phoenix Magazine, those grumpy reviewers, have another cup of joe.
Award Nomination:
Best Bargin Breakfast
Review #16123
Review by:
mscott1211
on 10/13/2008


This restaurant along with the Barrio cafe are the most overrated places in Phoenix area. This is what I got at Matt's big boo boo. Soggy hash browns burnt on one side, cold arabian coffee, cramped place, average omelette with no flavor but they did use better bacon for an average at best omelette.
I agree this place is over hyped and you are better off going to Village Inn, Denny's, IHOP.
Plus, the service was bad. I personally feel that I mislead by the Newstimes reviews that there exists a good snobbery because of the Scotsdale Culinary school and the owner of Matt's big boo boo is the husband of a woman who works for Pizzaria Bianco. I believe that this bad place gets much love because of that connection. Someday, someone clever will open a real nice omlelete place in downtown Phoenix and cleanup.
Award Nomination:
Biggest Ripoff
Review #15091
Review by: MrBreakfast.com Visitor on 6/11/2008


I found the pancakes to be very good and definitely homemade. However, the hash browns were not cooked properly and they were dripping with butter. I know that this is the way that they are not supposed to be served because I looked around at other people's hash browns and they were much crispier and cooked more without the dripping greasy appearance.
The eggs were below average which is unfortunate. All in all including value for money, television hype and quality, I'm afraid that a trip to Denny's would come first when my tummy started to rumble for a decent breakfast!
Tamara
Review #13917
Review by: MrBreakfast.com Visitor on 1/22/2008


The food is good not great the portions are quite decent for the money seating is not exactly comfy in this place I was bumping elbows with the guy at the next table all thru my meal.
The pancakes were okay and I could have lived without the hashbrowns mixed in with them from the grill, the denver scramble was yummy and the waitress was extremely slow and not organized at all, empty drinks and coffee were irritating and a 30.00 + bill for 2 for breakfast with sloppy service I dont think Ill be returning anytime soon.
Award Nomination:
Biggest Ripoff
Review #12529
Review by: MrBreakfast.com Visitor on 11/7/2007


a "cool" place to name drop, the La Grande Orange of downtown Phoenix as a spot to be line. Good food but you pay for it. Have been there over the years and it is consistent, and with LoLo's gaining more and more in popularity, and with Palatte also becoming a trendy albeit pricey alternative, you got the time in line, wait it out.
Review #11801
Review by:
chevyz81
on 8/29/2007


Well we visited Matt on an off day so there was no wait and we were sat by a window quickly. The pancakes were a little thick but good. THe hashbrowns, eggs, and sausage were very good, but the bacon was some of the best we have ever had. Overall this was a great choice for breakfast and we went out of our way to get there. My father ownes 3 breakfast places in NC on the Outer Banks. We know good breakfast and this is a place not to miss when in the area. If there is a wait its only because its in demand. thanks Matt
Award Nomination:
Best Bargin Breakfast
Review #11239
Review by: MrBreakfast.com Visitor on 3/16/2007


Heard all the raves about this place so I had to check it out. You should know that it's tiny, sits maybe 25 people at a time. Food was good but didn't feel it was worth the wait. No refills on anything other than coffee. Did I mention that it was tiny? So if you have a large group, this isn't the place to go.
Award Nomination:
Biggest Ripoff
Review #9890
Review by: MrBreakfast.com Visitor on 1/28/2007


Best hole-in-the wall in town!
Award Nomination:
Best Breakfast Ever
Review #9468
Review by:
portland
on 9/29/2006


Give your self a treat this week and start your day off at Matt's Big Breakfast located at 801 North 1st Street (McKinley & First St.) This happy little restaurant is a breath of fresh white washed and orange trimmed air. Every seat is great in the small space. Proprieties Matt and Erenia Pool definitely made the best of this cute very small brick building. My Buddy and I choose to sit at a stainless steel window counter overlooking 1st Streets' morning traffic. I started with a toasty cup of coffee (Cave Creek Coffee Company) and my friend drank the just squeezed OJ while happily pointing out the pulp. Our view of 1st avenue made our quick wait for food even quicker. It was just a short conversation before our little counter was filled with buttery griddle cakes, maple syrup, sausage, bacon, and the daily scramble special consisting of cage free eggs, bacon, cheese, and jalapenos with a side of rosemary potatoes and caramelized onions we also got the must try fresh squeezed honey lemon aide. The food is inexpensive and the menu is tiny but true to the "Big Breakfast" name everything was big! Thick cut Bacon, Chunky Sourdough toast with local Terra Verdi Blackberry Jelly, huge fluffy griddle cakes even the generous sage sausage patties hailed from Queens' Creek absolutely everything is fresh even down to the cheery bright yellow Gerber daisy. The menus brag they cook with only real butter of extra virgin olive oil, for short order breakfast food this is definitely the crème de la crème.
Award Nomination:
Best Breakfast Ever
Review #8598
Review by:
PorkfatGuy
on 9/18/2005


Matt's Big Breakfast is a fairly new place downtown, and it's been been getting great reviews and has been packed since it opened. They're known for using only high-quality ingredients, usually locally sourced and/or organic (their meat comes from the Pork Shop in Queen Creek) but traditionally prepared in generous quantities. My favorites are the salami and eggs and the griddlecakes, plus the awesome home fries cooked in olive oil. Great burgers cooked in butter at lunch, too. This is my new favorite place in Phoenix.
Award Nomination:
Best Breakfast Ever
Review #5911
To write a review of your own for Matt's Big Breakfast,
click here
.
Connect With Mr Breakfast:



Reviews submitted here are meant to pertain to breakfast only. While Mr Breakfast cannot vouch for the validity of each restaurant review, he feels pretty good vouching for the excellent character of the residents of Phoenix, Arizona - who are primarily responsible for the review(s) you see above for Matt's Big Breakfast.

I won't reveal #1, but I can tell you it's Gr-r-reat!
Click here
.