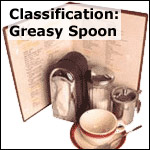 5501 W.Pico Blvd.
Los Angeles, CA 90019
(at Pico and Hauser)
Average Overall Rating:

Average Coffee Refill Rating:

Average Expense Rating:

Review by: MrBreakfast.com Visitor on 1/13/2010


CJ's is a treasure in the Los Angeles Area. Located a few stores West of La Cienega on Pico, its family run and the clientele include many of LA's finest. DWP, LA PD, Detectives, BH PD, and other workers. They have a huge menu and are consistent in their quality. The owner's son and daughter run the place and their cooks and workers have been there a long time too. Breakfast, Lunch all good. I've tried many places and this is certainly one of the better "grill" places in this area. Please go!
Award Nomination:
Best Service
Review #19009
Review by: MrBreakfast.com Visitor on 3/4/2008


My roomie and I go to CJ's almost every weekend and the food is great. I always have scrambled eggs, french toast, sausage, and coffee. The price is right (between the two of us, we never spend more than $20). And the service is better than the food. I just wish they'd add on to the place so that it wouldn't get so crowded. I love, love, love this place and I'll keep going until the day I move away from L.A.
Award Nomination:
Best Breakfast Ever
Review #12968
Review by: MrBreakfast.com Visitor on 2/1/2008


I have been a customer of cjs for a few years now but the prices are scarring me away. The food is good, I like the outside seating...but there is a great inexpensinve little taco place down the street "sky's tacos" they are also good and the prices are extremely reasonable.
Award Nomination:
Most Comfortable
Review #12628
Review by: MrBreakfast.com Visitor on 6/17/2007


It scares me to write a glowing review of CJ's because we don't want the place to be flooded by one-dimensional Westsiders interested in 'having a multi-cultural experience' and then racing back home once their done, with car doors locked until they cross LaCienega Boulevard.
Having said that, CJ's is a cornerstone of the PicFair neighborhood, serving amazing food, super-fast, at embarassingly cheap prices. Yes, there can be a bit of a wait on the weekends but it moves quickly. The 'Pico Burger' may be one of the best burgers you'll eat in LA. The omelettes are killer. And the portions are ridiculously generous for the price (for any price). The owners could not be nicer, the staff is super-friendly, and if you speak a bit of Spanish you'll get treated like royalty.
Award Nomination:
Best Bargin Breakfast
Review #10619
Review by: MrBreakfast.com Visitor on 1/28/2007


This is a terrific family-owned neighborhood breakfast place. The food is tasty and inexpensive (though I've never tried a non-breakfast item). I love the omlettes and their potatoes are pretty amazing. It does get busy, but it's worth the wait to sit outside. I've never had much trouble parking - there's usually an attendant in the back 'stacking' cars one behind the other so they can double their parking availability at peak hours. I recently moved out of the neighborhood, but will still try to go to CJ's often!
Award Nomination:
Best Bargin Breakfast
Review #9472
Review by: MrBreakfast.com Visitor on 11/15/2006


I visited after reading the reviews, the food was ok.
parking is pretty bad they have about 4 parking spaces in the back and ofcourse they were taken so i had to drive around the street until i finally found some around the corner.
our waitress bought our drinks when we reminded her and after we were halfway done with our meal.
i like it that it has the old diner coffee shop feel, but the help needs some improvement!
Review #8945
Review by: MrBreakfast.com Visitor on 10/19/2006


I reccommend the sausage omelette with avocado, potatoes and a biscuit. You won't be sorry.
Award Nomination:
Best Bargin Breakfast
Review #8734
Review by: MrBreakfast.com Visitor on 3/28/2006


The spanish omlette I had at CJ's was amazing. The service was decent. I will definitely go back.
Award Nomination:
Best Bargin Breakfast
Review #7142
Review by:
nagadish
on 2/6/2005


This neighborhood joint is the pinnacle of a great breakfast place. Family owned and some damn good food. They're home potatoes are incredible. They must be putting some sort of narcotics in them, because I'm addicted. Their menu ranges from authentic Mexican dishes to your basic breakfast items. They're lunch and dinner items are fantastic as well. Gotta love they're tuna melt on sour dough. One of the best I've had. Coffee isn't that great, but hey, it is a greasy spoon type of place. They also have fresh juices(celery, beet, carrot, and orange). You'll encounter a wait on Saturdays and Sundays and they do have outdoor seating.
Award Nomination:
Best Bargin Breakfast
Review #4459
To write a review of your own for CJ's,
click here
.
Connect With Mr Breakfast:



Reviews submitted here are meant to pertain to breakfast only. While Mr Breakfast cannot vouch for the validity of each restaurant review, he feels pretty good vouching for the excellent character of the residents of Los Angeles, California - who are primarily responsible for the review(s) you see above for CJ's.

I won't reveal #1, but I can tell you it's Gr-r-reat!
Click here
.