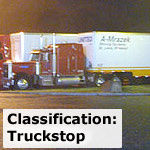 Route 16
Average Overall Rating:

Average Coffee Refill Rating:

Average Expense Rating:

Review by:
Iamananny
on 6/25/2014


Every time to go to the mountains. We always stop by Mrs Wakefield for lunch or breakfast. We have always had the best service and they even helped us out when my car broke down. I have been going there for years. This place is awesome great food and good prices. My only negative is that I ask not to sit where I can see the Moose butt. I also love the homemade pies. The coconut cream one is my favorite. Keep watching we will be there again soon.
Award Nomination:
Most Comfortable
Review #24849
Review by: MrBreakfast.com Visitor on 4/6/2011


| | |
| --- | --- |
| Coffee Refill Rating: | Doesn't Apply |
I agree with the reviewers complaining about the service and the inability to alter ANTHING about a menu item. We asked to hold the tomato off of a sandwich because my daugher is allergic. We were told by the waitress that the cooks 'don't like special orders'. We were not rude, we did not talk down to her. She was actually rude to us (while chomping open-mouthed on a piece of gum). It was a simple request in the interest of avoiding an allergic reaction. But the sandwich came with a tomato. We will never go there again and have told all of our family and friends about the experience.
Award Nomination:
Worst Service
Review #22301
Review by: MrBreakfast.com Visitor on 9/23/2010


For years we had gone by the diner and always meant to try it since it is the kind of place we usually like to visit.
Sadly, Miss Wakefield will now go down as the worst place we have ever been. We sat at the counter, myself,wife and son, the waitress behind the counter never gave us water, a menu and never asked if we wanted to have coffee. After nearly 20 minutes of her doing nothing but glancing at us we left. We are not a filthy family, don't look like members of Charles Mansons family but we could not have been more ignored if we had been invisible.
Personally I wouldn't recommend this dive to anyone, friend or foe.
We will never go back, because any business that hires people like we experienced isn't worth the time or money.
Award Nomination:
Worst Service
Review #21107
Review by: MrBreakfast.com Visitor on 6/29/2010


| | |
| --- | --- |
| Coffee Refill Rating: | Doesn't Apply |
We spend most of the summer in the area and have never stopped in. This year, we decided to give it a try. The food was okay but not outstanding, and the service and attitude have us questioning whether we will ever go back. We asked for one of the sandwiches without cheese. The waitress indicated that she would try, but could not guarantee it. ?? We asked for a second sandwich without chipotle sauce. With a roll of her eyes, the waitress again indicated that she would try, but could not guarantee it. And that the kitchen especially didn't like it when they had two 'special orders' for one table. Special orders? We didn't ask that recipes be changed, jut that an item be left off the roll and another not be poured on. We were lucky enough not to get the cheese, but we did get the sauce. (The sandwich would have tasted MUCH better without it.) We were not rude when we asked - it was very nonchalant since it is not uncommon that customers make those very simple requests. The customer at the booth behind us also got the tomato that he asked that they 'hold'. Based on that experience, I think we will only return in an 'emergency' and will be trying other options in the area - like the Choo Choo Cafe.
Review #20430
Review by:
maddawg1973
on 2/14/2010


I live In the area of the dinner, my wife and myself frequent there at least 2 times if not more.
To the person that said they felt like they were being hurded like cattle, what did you expect when you drove in and saw the parking lot full?
And as far as those who didn't get their food the way they asked, those of us natives that live here year round don't like being talked down to. I have been there on ocasion when several out of staters were very rude to the help.So if your being a jerk about things the girls and the owner will fire rite back at you.
The food is outstanding I always leave full and when its time for the next meal I generally will pass as i'm still stuffed from what i ate before. As far as price you get your moneys worth and then some. It is an honor to have such a great eating establishment in the town i call home
Award Nomination:
Best Breakfast Ever
Review #19305
Review by: MrBreakfast.com Visitor on 6/23/2009


The whole experience left me feeling like some cattle and not a person. From waiting on the long booth outfront to secure your spot in the cue to having to keep an eye out for exiting people to grab a booth, it was not very good customer service. My wife was told that they would try and make an omelette without mushrooms (they don't change what's on the menu), as was on the menu, but they were so busy they couldn't guarantee anything. She was fine with picking out the mushrooms, but when the omelette came with brocolli (not listed on the menu as an item in the omelette) we were told they always came that way. The waitress did take the omelette back and asked if my wife wanted to try anything else, but it seemed like a crap shoot at that point. I love breakfast, I love diners, but I will not be returning.
Review #17274
Review by: MrBreakfast.com Visitor on 6/15/2009


My husband and I stop here quite often when we are heading south. We think this is the best. The waitresses are very friendly and the service and the food is excellent. The owner is very friendly and when he has a minute he comes out from the back and says a friendly hello and how are you. He remembers his customers. Great place to eat!!!!! Maurice and Pat
Award Nomination:
Best Breakfast Ever
Review #17206
Review by: MrBreakfast.com Visitor on 4/8/2008


Great service & very good food at a reasonable price...and the atmosphere is fun. Thanks Miss Wakefield!!!
Award Nomination:
Best Bargin Breakfast
Review #13297
Review by: MrBreakfast.com Visitor on 7/27/2007


Very good quality, but sometimes the young girls aren't as good as more experienced waitstaff.
Food quality is excellent, I have been going there for years. My son always asks to stop, if we're in the area, no matter what time of day!
Good bang for the buck - expect slow service, it gets very busy around 10:00AM on weekends.
Review #10946
Review by: MrBreakfast.com Visitor on 9/30/2006


| | |
| --- | --- |
| Coffee Refill Rating: | Doesn't Apply |
After a long day travelling from the UK to Eaton Center Miss Wakefield Diner came as quite a treat! It was amazing, from the whole American Diner experience to the chocolate frappe. I have never had anything like it here in the uk and absolutely can't wait to visit again! FANTASTIC. The philly cheese steak (think thats what you call it over there)was great!
Review #8614
Review by:
ajjesse
on 11/9/2004


We stopped here on the way to North Conway and walked out. My wife is allergic to certain foods and when they refused to prepare an omellette without a particular ingredient (green peppers)and were essentially yelled at by the waitress and then cook we left. We went down the street to the Choo Choo Cafe and got just what we wanted prepared the way we requested. Please go to their place and not here!
Award Nomination:
Worst Service
Review #4070
To write a review of your own for Miss Wakefield Diner,
click here
.
Connect With Mr Breakfast:



Reviews submitted here are meant to pertain to breakfast only. While Mr Breakfast cannot vouch for the validity of each restaurant review, he feels pretty good vouching for the excellent character of the residents of Wakefield, New Hampshire - who are primarily responsible for the review(s) you see above for Miss Wakefield Diner.

Check out our favorite vintage recipes from old magazine ads and recipe cards.
Click here
.