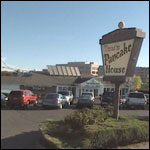 12925 SW Canyon Road
(State Route 8, one mile west of State Route 217)
Average Overall Rating:

Average Coffee Refill Rating:

Average Expense Rating:

Review by:
Mitzvagal
on 9/16/2014


This is a great place for a good breakfast. The peach pancakes or peach crepes are to die for. That also have a great green chile and cheese omelette which comes with some really great buttermilk pancakes. Also, try their homemade cinnamon rolls, and/or their cinnamon roll french toast.
Award Nomination:
Best Breakfast Ever
Review #24928
Review by: MrBreakfast.com Visitor on 2/19/2012


My boyfriend and I went there last weekend.
The food was bland and kinda flavorless and the coffee pretty weak. Exactly what expect from an "old timers" place.
The service was good and the people were very polite and seemed pretty happy.
Review #23061
Review by:
DivaDiner
on 3/28/2011


Tom's has been one of my favorite places over the last 8 years I have lived in Beaverton.
The food is fair priced, waitstaff is wonderful, & management is the best....
Tom's not only serves breakfast all day but has evening hours and serves a full menu including breakfast. Not crowded and lots of attention paid to the customers. Try it some time!
Award Nomination:
Most Comfortable
Review #22270
Review by:
RIDETHEWIND13@C
on 10/28/2010


I HAVE EATEN AT TOMS FOR OVER 37 YEARS. I HAVE NEVER HAD A BAD MEAL. THE WAIT STAFF IS GREAT AND THE MANAGER IS ONE OF A KIND. THANKS FOR BEING IN BEAVERTON.
Award Nomination:
Best Breakfast Ever
Review #21403
Review by:
stayceelin
on 9/8/2010


We were nervous to try Tom's because of so many mixed reviews. The full parking lot and large groups of people waiting for a table were a good sign that we were in for a treat. First thing I noticed when we walked in to get our waiting number were the Mexican Jumping Beans for sale next to the register. When's the last time you've seen these!? Our wait was short, maybe 10 minutes, and we had coffee and water at our table almost immediately. I ordered a full stack of buckwheat pancakes ($5 and some change), my husband had the special of 2 eggs, 2 sausage and 2 buttermilk pancakes (under $5!). The food was good, standard for a family diner. Our experience was positive, and we'd return to try some of the other interesting menu items (Apricot-Almond Crepes, scratch made cinnamon rolls, etc). Give Tom's a try when you're in the mood for something other than the over-hyped, taking-themselves-too-seriously, hipster breakfast places in Portland.
Review #20977
Review by:
margarine
on 12/7/2009


My mom and dad went there. They weren't sure what they would get because of a lot of mixed reviews. They ordered something and said it was delicious! If you bad reviews they are WRONG! It was great!
Award Nomination:
Best Service
Review #18739
Review by: MrBreakfast.com Visitor on 11/1/2009


I love this restaurant. Been going there for years. I don't think the reviews are representative of the people that visit Tom's. Food has always been great, and maybe once have I had a case where the service could have been better. Overall, this is a wonderful place to take the family for breakfast!
Review #18448
Review by: MrBreakfast.com Visitor on 9/1/2009


There's nothing right or wrong about this restaurant; It's just the impresion of each visitor
Award Nomination:
Most Comfortable
Review #17929
Review by:
Long Timer
on 6/7/2009


This is a family friendly restaurant, holds small groups (10-30 people), and service is generally good. Breakfast is served from open to close but breakfast food quality goes down some in afternoon and evening. Evening service is usually lower quality too. Plan for a short wait if arriving between 10am and 1pm on weekends. Waffles are a best bet almost any time.
Award Nomination:
Most Comfortable
Review #17149
Review by: MrBreakfast.com Visitor on 5/7/2009


Dear God it was horrible....
I made the mistake of taking some friends to this place without trying it first and I will never hear the end of it now. The server was rude and unhelpful. She rushed us through ordering and then ignored us after she dropped the food off. We ordered the "Golden" waffles expecting to get toasted delicious goodness, instead she dropped the plates on our table with a clatter holding, flat, oblong, brittle, dry crackers with waffle print on them. I say to you with all seriousness... Eggo waffles were 10 times better. I smothered mine in ALL of the butter i was given and half of the syrup jar and it was still awful. My friend ordered one with strawberries and while the berries were fresh the waffle ruined his day. No Joke. Needless to say he did not finish. The bacon i had was dry, and old? seemingly to be the leftovers from someone else's breakfast from an hour before and my eggs were rubbery and cold to the touch. On top of it all it was overpriced. nine dollars for a waffle cracker and strawberries...? really? We will NEVER, EVER, eat here again and the sooner this place has a grease fire and burns to the ground the better. Maybe the food will taste better then. Do not eat here if you value your money or health. Please. I beg you.
Award Nomination:
Biggest Ripoff
Review #16954
Review by: MrBreakfast.com Visitor on 4/20/2009


Tom's is the BOMB. East coasters will like the diner vibe and large portions. The swedish pancakes are to die for.
Award Nomination:
Best Breakfast Ever
Review #16837
Review by: MrBreakfast.com Visitor on 1/3/2009


| | |
| --- | --- |
| Coffee Refill Rating: | Doesn't Apply |
This was my first "Tom's" visit and I was very pleased. My husband and I both ordered cheese omelets with hash browns, toast and bacon. The food was very tasty and for the price we were surprised with the large portions! Service was better than expected, as I read all of the reviews prior to our visit. Our meals were prepared quickly, drinks were re-filled in a timely manner and the wait staff were all pleasant. All in all we have a new favorite breakfast spot. We will be coming back to this place in the future and would recommend anyone to try it out.
Review #15769
Review by:
caligirl
on 11/4/2008


I eat here at least once each time I visit Beaverton. The service is fine. The pancakes are good. The menu items I would recommend though are their omelets. Fluffy, flavorful and filling! There is probably an omelet on their menu that would more than satisfy any flavor cravings. It's a nice, low-key place to have a late morning breakfast.
Review #15268
Review by:
DivaDiner
on 10/1/2008


Cannot believe the negativity about this restaurant. We eat at Tom's 5 days a week for breakfast or lunch. The food is good and economical. Seems people complain about the service and I cannot understand. I average 4 cups of coffee during my 45 min. meal. I have never had to ask for a refill and my son averages at least 3 refills on ice tea. The eggs & pancakes are wonderful. We get in and out without waiting forever like Bear Diner. For the price you cannot compare to some of the nearby restaurants. We can eat for under $16 for 2 and Bear Diner averaged $24 when we used to eat there. The servers at Tom's are very nice! I have 2 favorites Margo & Sandra for VERY GOOD service but all the servers are GREAT!
Give them a try again.....
Award Nomination:
Most Comfortable
Review #14993
Review by:
cyberdoll
on 5/14/2008


We have been going to Tom's since we moved here in 2000. Before this I was a IHOP fan because of their pecan pancakes and their chicken fajita omelet that still can't be beat. Although Tom's filbert (hazelnut) pancakes are the best, omelets fluffy, their services isn't what it needs to be. I have only had the good fortune of getting a good waitress once in the years that I have been going... Pam. Anyone else, was just plain useless to down right rude. You would think that they were inmates on a work furlough.
Hire new waiters and this place could get better ratings.
Award Nomination:
Best Bargin Breakfast
Review #13675
Review by: MrBreakfast.com Visitor on 4/6/2008


We eat here about once a month as a family. The food is OK, as is the service. Nothing spectacular. Their saving grace are their Omlette's, they whip the eggs and they are very tender and flavorful. That's about it. Their pancakes are decent but I have had better.
Review #13277
Review by:
kevbew
on 11/17/2007


Food is reasonable and priced fairly. Staff is less than amiable.
Review #11914
Review by:
dohtexas
on 11/16/2007


I have to agree with about all the comments. i had read you reviews prior to going. my waitress was not the best but other waitreses filled my cup. MINE LOST COMPLETE INTREST AFTER BRINGING THE CHECK. MY wife grandson and I filled up for $18 most breakfast are 5.95 or more. They did a great job on the hash browns and served more than i could eat. everything was pretty typical but nothing was spectacular. i say this as a truckdriver that has eaten in more resturants across the us than you can imagine. I will return there till i can find one nearby that is better.
Review #11907
Review by:
yot3erry
on 2/14/2007


The service here is definately a bit lacking, which is surprising considering the numbers of people they draw every morning. Don't expect any refills unless you ask. The food is good, but iHop would probably be a better all round choice.
Award Nomination:
Worst Service
Review #9619
Review by: MrBreakfast.com Visitor on 11/17/2006


I've had good experiences in previous years with this restaurant. I was embarassed for my guests at the horrible service we received today. No refills on coffee - I had to walk up to the serving station to get more. No water or tea refills. Our meal came in sections so the eggs were cold. Had to stop the waitress to ask for anything. Upon checking out I waited for a greeting where I could explain what happened but the man took my money with absolutely no exchange of words. No thanks or acknowledgement that I was a customer. I will never go there again
Review #8956
Review by:
Thinkingofyou
on 11/7/2006


I am absolutely shocked to read some of the bad feed back on this site! I think Tom's Pancake House has the best food ever! When Tom sold his wonderful resturant the food DID NOT change at all! I know this because the head cook Robert stayed. Tom didn't cook the food. So whoever made the comment about the pancakes and waffles tasting different was just trying to get a free meal. I suggest that everyone try this resturant!
Award Nomination:
Best Breakfast Ever
Review #8887
Review by:
Mrs-G
on 3/14/2006


My family and I gave this place 3 chances , so we kept trying different things for breakfast, the pancakes are OK, but the we always got the worst service with the waitresses, Wow! did they wake up on the wrong side of the bed! Obviously, no one has tried the The Black Bear's Diner right down the street from here, and I don't get no reward from them but I got to be honest, this Pancake House is the WORST, it's not worth going back! Go down the street to Black Bear's Diner!
Review #7029
Review by: MrBreakfast.com Visitor on 1/10/2004


Living in England and visiting Beaverton several times in the Autumn 2003 I went into Tom's Pancake House a number of times...I thought the breakfasts they served were first class, and the service was very good...Well done to the owner and special praise to all the staff that work there.
David, Near London, England
Review #2795
Review by:
StevenS
on 10/31/2003


Roomy, attractive, country style restaurant (no booths). Their pancakes are very good, but their omlettes are great, with eggs so light and fluffy that, if you couldn't taste them, you wouldn't know they were in your mouth. The food arrives in a reasonable amount of time and you can order breakfast for carry-out, but as for the rest of the service . . . . There are two pots of regular coffee and one of decaf for the entire restaurant. The waitresses act like they are under orders to keep the pots hot, because they rarely take them from the warmers -- I saw a waitress fill up four cups of coffee at the warmers, then carry them across the dining room to customers who had just arrived! This has been SOP every time I've been there. The waitresses do refills about once every 15 to 20 minutes. And the busboys take forever to clean vacated tables. Just misses a "Worst Service" nomination. If it weren't for the food, I'd give them 1-1/2 eggs, if Mr. Breakfast would let me.
Review #2520
To write a review of your own for Tom's Pancake House,
click here
.
Connect With Mr Breakfast:



Reviews submitted here are meant to pertain to breakfast only. While Mr Breakfast cannot vouch for the validity of each restaurant review, he feels pretty good vouching for the excellent character of the residents of Beaverton, Oregon - who are primarily responsible for the review(s) you see above for Tom's Pancake House.

Check out our favorite vintage recipes from old magazine ads and recipe cards.
Click here
.