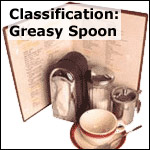 High Street by OSU campus
Average Overall Rating:

Average Coffee Refill Rating:

Average Expense Rating:

Review by: MrBreakfast.com Visitor on 4/6/2009


we have eaten at Tee jays several times and have never had a bad experience will go back servers are very nice have always gotten refills without asking so maybe #15455 had a bad experience but don't knock them down because of one mistake has he ever burnt his toast or got his eggs wrong probaly but i bet he tried again so don't knock your brother down pick him up so he can do better the next time a Chillicothe customer will go again and again . thanks for listening
Review #16720
Review by:
totallytop8x5
on 6/2/2007


I know I am a little late for this, but I felt it should be added...
Regarding the post from Anonymous Breakfast Lover on 1/31/2007...
I happen to agree with you... everything is outstanding with Tee Jay's. If it's not, they make sure to correct it...
In addition, the other person that had the comments about the employees that were on either parole or probation... it seems to me that the only way he knows this information is simply because he (or she as the case may be) used to work there. There is no business that advertises that type of personal information anywhere in the place of business and in order for someone to know that kind of information, they at least needed a last name and perhaps some additional information...
Instead, I highly suspect that this individual was a disgruntled past employee who was terminated and is trying to get back at the company. They really need to GET A LIFE !
Award Nomination:
Best Breakfast Ever
Review #10510
Review by:
Bumper
on 3/3/2007


I have to compliment Tee Jayes on Parsons Avenue
on the super servers on the "First Shift 7:00 - 3:00. They are efficient, courteous, and if there is a problem with a meal from the Kitchen, they get it corrected immediately. Tee Jayes is the Home Team, down to earth and friendly with their greeting 'HOWDY FOLKS'
At the cash register, they check to see if everything was ok, if not,they correct the problem. Come on Folks! "Support The Home Team"
Award Nomination:
Best Service
Review #9776
Review by:
MrJLeeW
on 11/19/2006


Friendly Atmosphere, good service, Food is good, Food quality consistency is 1 complaint out of 10 visits, (not bad).
Award Nomination:
Best Bargin Breakfast
Review #8973
Review by:
jugarrett
on 10/6/2006


Well first off I would like to comment on the anonymous guy who wrote in july 2006, this guy obviously just got mad because things didn't go his way, tee jays is a wonderful family oriented resturant where people know you by name, and I know people who work at tee jays and they don't just come off of the pavement outside, they are hard working individuals who try their best to make a living and stick with it, and as for the tables I haven't stuck my sleeve in any syrup at any tee jays I have ever eaten at, go suck on a chicken egg you idiot, Tee Jays Rocks.
Award Nomination:
Best Breakfast Ever
Review #8652
Review by:
frcousin43
on 8/1/2006


Tee Jays may not be a 5 star restaurant but they have good food good people and fast service that's all I want for my money. Also it is a great place for family or friends to meet and eat and have a good time as an african amerian I have heard that many restarants still make people uncomfortable but Tee Jay's makes everyone feel welcome and well taken care of.
Award Nomination:
Most Comfortable
Review #8105
Review by:
jimjillkinsin
on 3/5/2006


For the bottom line people out there: barnyard buster.
Award Nomination:
Best Bargin Breakfast
Review #6932
Review by:
azthebaz
on 7/6/2005


This is a nice place. However do not try to go there Sunday at the crack of dawn...they are closed. This place is actually no where near campus unless you have a car and are willing to drive 15 minutes north from campus. I went once with my sister. She loves the place and goes very often. Personally I prefer Jack and Benny's as it is closer. This place does have good home cooking. Make sure to get the apple pie with a scoop of ice cream!
Review #5370
Review by:
shortdoc
on 3/23/2005


If you want a real country meal this is the real deal, not those wanabe Bob whatevers with their snotty attitude. Same goes to those folks puttin down the real folks who like to eat here. If you do not like county food or working folk why do you go to Tee Jays COUNTRY place. Sure the barnyard buster is a heart attack waiting to happen but it is the best deal in town.
Award Nomination:
Best Bargin Breakfast
Review #4719
Review by:
bengals
on 3/10/2005


You would have to be really hungry to eat here. People who say this is there favorite restarant really must not get out much. If you like ugly waitress's and poor service then your in for a treat. The popular baryard buster is a Columbus Ohio favorite, but lets face it the people that eat this dog food do it at 3am after all the bars close and there is nothing else open. The place is dead during the day. Save your money and go to the waffle house.
Award Nomination:
Hugest Dump
Review #4642
Review by:
cookieb
on 7/12/2004


I like to stagger in at about 6 pm on Fridays, right after the regulars get paid at WalMart and head in for their big weekly night out. Nothing fuels the leggo train brain like a BARNYARD BUSTER! Don't waste your time with anything else (though one night the waitress poured coffee right in my lap which was nice). I upped my Lipitor to 20mg just so I could slam down a buster every week!
Award Nomination:
Hugest Dump
Review #3599
Review by:
aunt bea
on 1/13/2004


| | |
| --- | --- |
| Coffee Refill Rating: | Doesn't Apply |
hi. i am a fan of teejays. the reason i am writing is that i am vice president of the resident council. we are having an auction in march. i was wondering if there was any possibility that you could donate us anything for our auction. thank you
Award Nomination:
Best Bargin Breakfast
Review #2808
Review by:
OneCrazYgirL024
on 5/12/2003


I have been eating at this Tee-Jays since I was a child and I just love their food. I do not like to eat at anyother Tee-Jays. It is the best restaurant I have ever been to in my life and they deserve all the compliments that they get. If you read this and you have never been to this specific Tee-Jays then I reccommend you to go there and try their food, you will not regret it at all. I am glad I had this oppurtunity to share my thoughts.
Award Nomination:
Best Breakfast Ever
Review #1730
Review by:
asktheteach1
on 1/23/2003


great meal for price....if u walk out hungry it's your own fault. Country charm...good quick food.
Award Nomination:
Best Bargin Breakfast
Review #1209
To write a review of your own for TeeJays,
click here
.
Connect With Mr Breakfast:



Reviews submitted here are meant to pertain to breakfast only. While Mr Breakfast cannot vouch for the validity of each restaurant review, he feels pretty good vouching for the excellent character of the residents of Columbus, Ohio - who are primarily responsible for the review(s) you see above for TeeJays.

When's the last time you had breakfast in a cup made of bacon?
Click here
.