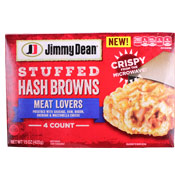 New Product Review:
Stuffed Hash Browns
From Jimmy Dean
Reviewed by Mr Breakfast on 6/23/2016
I tried the Meat Lovers variety of Jimmy Dean Stuffed Hash Browns which consists of potatoes with sausage, ham, bacon, Cheddar and mozzarella cheese. They also offer a Bacon & Veggies variety and a Sausage & Cheese variety which I have not reviewed.
Each of the 4 servings in the box comes with its own microwave crisping sleeve. Instructions are to microwave for 2 minutes and allow to cool for 2 or 3 minutes. I recommend allowing them to cool for at least 5 minutes as the filling is way too hot after 2 minutes.
This product never gets fully "crispy from the microwave" as the package states. You'll have bites that seem crispier than others, but - overall - the crispy promise goes unfulfilled.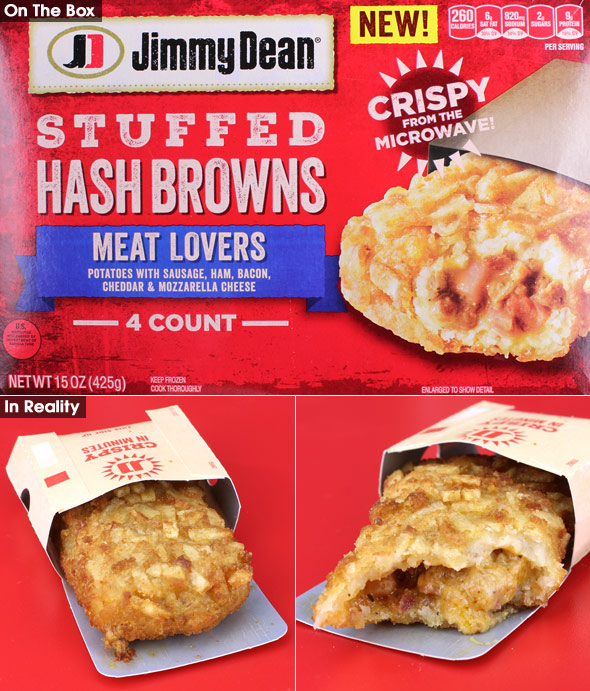 The first taste of the Meat Lovers Stuffed Hash Browns is somewhat overwhelming. At first, the three kinds of meat hit you as one undefined, unusual meat. As you take subsequent bites, you start to distinguish between the flavors. You get a good amount of cheese in every bite with Cheddar totally dominating the nearly imperceptible mozzerella.
Overall, the flavor is too rich and too salty. Worst of all, there's a distinct flavor of the freezer in the potatoes. I would chalk that up to a product being freezer-burnt, but I bought this the day it appeared in stores and made it the following morning. My other minor complaint would be that sticky bits of cheese and potato stick to your teeth.
On the plus side, the smell and aftertaste of these Stuffed Hash Browns triggered memories of big breakfasts at small town diners. And since that is no reason to buy anything except for candles, I DO NOT RECOMMEND this product.
Nutritional Considerations: Each Stuffed Hash Brown has 260 calories, 13 grams total fat (6 grams saturated and 0 grams trans), 25 mg cholesterol, 820 mg sodium, 24 grams total carbs, 2 grams dietary fiber, 2 grams sugar and 9 grams protein.
The price we paid: $4.49
Comments About This Product Review
What do you think of Stuffed Hash Browns?
By crystalcanyon


| | |
| --- | --- |
| Product Rating (out of 5): | |

So unhealthy! Sodium 900mg! Greasy nitrite/nitrate laden, msg... after one bite, I threw the box in the trash. I should have read the label before buying. Just one bite and I had head pressure and headache. These are terrible!

Comment submitted: 10/21/2016 (#5443)



By Tugboat


| | |
| --- | --- |
| Product Rating (out of 5): | |

We love these for a quick breakfast but they're hard to find. Sam's used to carry them.

Comment submitted: 10/9/2016 (#5442)



By Kel


| | |
| --- | --- |
| Product Rating (out of 5): | |

Way too greasy and way too salty. And this is coming from someone who loves savory salty things. Not worth the price at all.

Comment submitted: 9/12/2016 (#5433)



By Happy Ann


| | |
| --- | --- |
| Product Rating (out of 5): | |

I'm a hash brown fanatic but did not like these. The flavor was not good and they don't really crisp up.

Comment submitted: 8/25/2016 (#5423)



By Lacemaker


| | |
| --- | --- |
| Product Rating (out of 5): | |

Add to the above that there is so much fat that it makes the mouth feel greasy and if you eat it by hand, the hand gets very greasy. Decent flavor, but way too greasy.

Comment submitted: 7/30/2016 (#5417)





By CerealCrusher (Team Breakfast Member)

These micro-concepts always seem like a good idea going in... then they all end up as disappointing as Hot Pockets. Shame.

Comment submitted: 7/25/2016 (#5414)




---
Connect With Mr Breakfast:



Most Recent
Product Reviews:

May the force of breakfast be with you.
Click here
.