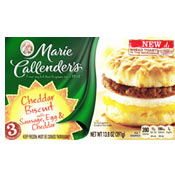 New Product Review:


Marie Callender's Breakfast Sandwiches
From ConAgra Foods
Reviewed by Mr Breakfast on 6/3/2013
I tried two varieties of Marie Callender's new microwaveable breakfast sandwiches: 1) the Cheddar Biscuit with Sausage, Egg & Cheddar and 2) the Flakey Croissant with Sausage, Egg & Monterey Jack.
I found both sandwiches to be superior to those from other brands in the freezer section. To name names, these new sandwiches are better than similar products from Jimmy Dean and from Weight Watchers' Smart Ones line. It should be noted that the Smart Ones products are much healthier.
Of the two new products, I definitely preferred the biscuit sandwich over the croissant sandwich. The biscuit had a homemade feeling about it. It was tender and tasty. The croissant had more of a commercial feel and was tougher in some places than others. The biscuit had the perfect amount of Cheddar cheese. In the croissant, you could barely notice the Monterey Jack.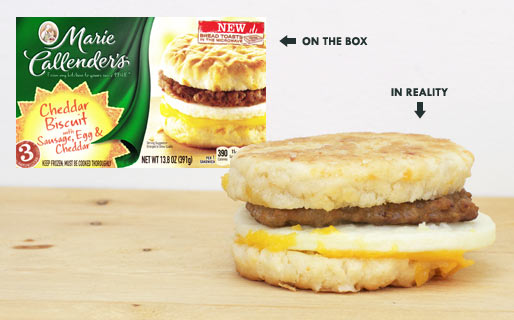 The egg in both sandwiches tasted fine. In the biscuit, the egg is a McMuffin-style patty. In the croissant, you get more of a folded over omelet-esque egg. The sausage patty appeared to be the same in both sandwiches. It was moist and full of flavor.
My only serious complaint about these sandwiches is that they're too salty. In the world of reviewing microwave breakfast products, that's actually a refreshing complaint. Most often, I have to write that a product doesn't look like it does on the package or that an element of the product (usually the egg) tastes artificial.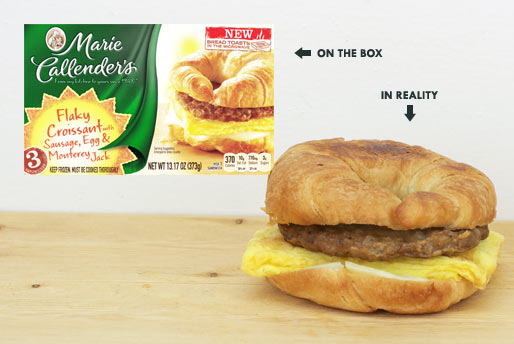 Thanks to the microwave toasting box that these sandwiches are cooked in, everything here feels fresh and near restaurant (or at least fast food) quality. It's actually sort of a point in this product line's favor that my main critique is too much seasoning. That said, I'm still gonna take away a point.
I have to deduct another point because of the excessive saturated fat and sodium in both sandwiches.
Nutritional Considerations:
Each Cheddar Biscuit with Sausage, Egg & Cheddar has 390 calories, 24 grams total fat (11 grams saturated and 0 trans), 150mg cholesterol, 1250mg sodium, 27 grams total carbs, 2 grams dietary fiber, 1 gram sugar and 15 grams protein.
Each Flakey Croissant with Sausage, Egg & Monterey Jack has 370 calories, 26 grams total fat (10 grams saturated and 0 grams trans), 145mg cholesterol, 770mg sodium, 22 grams total carbs, 2 grams dietary fiber, 3 grams sugar and 12 grams protein.
The price below represents the cost of one 3-pack of sandwiches.
The price we paid: $4.49
Comments About This Product Review
What do you think of Marie Callender's Breakfast Sandwiches?
By Lady M.


| | |
| --- | --- |
| Product Rating (out of 5): | |

I love the MC sausage, egg and cheese biscuits. Unfortunately, my grocery store sources have dried up. Can't find them but definitely want to.

Comment submitted: 9/8/2014 (#5096)



By Lisa G.


| | |
| --- | --- |
| Product Rating (out of 5): | |

We just began buying these since the kids have been out of school for the summer and they are GREAT! I have NO idea why anyone is complaining about these because in comparison to other microwave breakfast sandwiches these are absolute God sent! They do NOT taste like typical microwave sandwiches. The biscuits are actually near homemade quality, but the reviewer is right about the overall near fast food quality. Of course nobody should eat microwave anything on the daily, it's still worth picking up a couple of boxes of these and keeping them in the freezer for those days/weekends when you either don't feel like cooking or don't have the time. I love the taste and will continue stocking my freezer with these. We have only tasted the biscuits (sausage and bacon with egg and cheese).

Comment submitted: 7/7/2014 (#5070)



By Sherlock


| | |
| --- | --- |
| Product Rating (out of 5): | |

I bought the Cheddar on sale for $3.99. The packaging is beautifully done. I can't say the same for the biscuit, etc. My microwave has low wattage so I increased the timing based on that. I found the biscuit dry and tasteless, and the rest of the sandwich too salty. Couldn't even taste the egg for the salt. I am so disappointed in Marie Callender for producing such an inferior product. I truly can't understand why anyone would buy this more than once. I will give away or throw away the other 2 sandwiches.

Comment submitted: 5/22/2014 (#5052)



By Sodium Nitrate

I bought the Cheddar with Bacon, Egg & Cheddar and the Flaky Croissant with Ham & Cheese. Fortunately I read the ingredient list before I ate them, the Bacon and the Ham both contain SODIUM NITRITE, to which I am allergic. So I had to remove the meat and toss it before microwaving them.

Comment submitted: 1/29/2014 (#4849)



By Poopsie


| | |
| --- | --- |
| Product Rating (out of 5): | |

I bought two kinds for my husband this past week, the sausage biscuit and the croissant with sausage. He did what the box said. He said the sausage was so hard he could not eat them. I would never buy them again.

Comment submitted: 11/7/2013 (#4810)



By kyennamo


| | |
| --- | --- |
| Product Rating (out of 5): | |

I have eaten about 20 of these things since discovering them a month or so ago. The ones I get are bacon, egg and cheese on a biscuit and the sausage egg and cheese on a croissant that the reviewer mentioned above. The bacon ones are my favorite. I love them. I don't understand people who say they turn out bad or hard as a rock. Mine always turn out all flaky and good. Maybe their microwave sucks or is too powerful. These are definitely superior to similar products.

Comment submitted: 9/19/2013 (#4367)



By Lori A.


| | |
| --- | --- |
| Product Rating (out of 5): | |

I tried the bacon, egg, and cheddar biscuit. The bacon was better than most and the egg and cheese was good but the biscuit was hard as a rock and tasteless. I threw it away. I only paid $1.49 for three biscuits since I had a coupon and they were on sale. I would not pay more for them though since I threw the biscuit away.

Comment submitted: 9/9/2013 (#4253)



By Mikey


| | |
| --- | --- |
| Product Rating (out of 5): | |

A little salty, but good for the money.

Comment submitted: 8/29/2013 (#4115)



By Jim P.


| | |
| --- | --- |
| Product Rating (out of 5): | |

Way too salty! But in other respects, the reviewer accurately describes the experience.

Comment submitted: 8/21/2013 (#4084)




---
Connect With Mr Breakfast:



Most Recent
Product Reviews:

All you need to know. The basics and beyond!
Click here
.