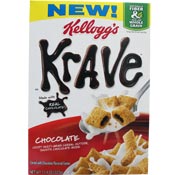 New Product Review:
Krave
From Kellogg's
Reviewed by Mr Breakfast on 2/6/2012
I tested two varieties of Krave cereal: Chocolate and Double Chocolate. While new in the U.S., Krave cereals have been available in the U.K. for a couple years now.
From the perspective of the box, everything about this cereals shouts fun. Enlarged cereal pieces are shown broken in half to reveal smooth flowing chocolate in each piece.
It is a fun cereal, but not as fun as the box would have you believe. Why?
When you analyze pieces of the cereal with a magnifying glass, you see that they are not "filled" with chocolate, but rather each piece has a hollow center with a scant drop of chocolate.
As you take your first bites, you're left wondering why this cereal isn't quite what you were expecting. It's interesting, but there's very little sense of the indulgence the box seems to promise.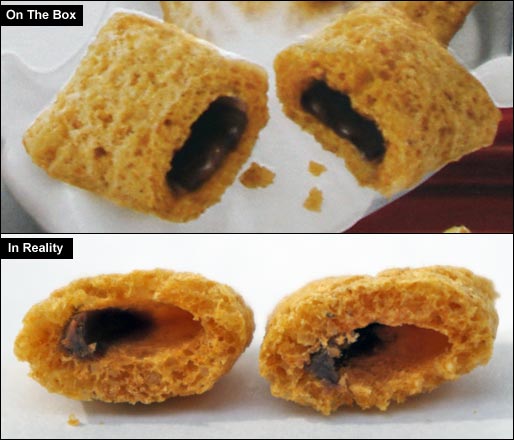 So knowing that you're not exactly getting what they're selling you, this is still a somewhat flavorful cereal that offers something new in terms of texture.
I was surprised at how light the cereal pieces felt. After one chew, a big bit of Krave suddenly seems small and compact in the mouth. Normally, this equates to a melt-in-your-mouth sensation, but here it's more like... "That's weird. Do I like that feeling? I think I do, but I'm not sure. It's not unpleasant."
The cereal pieces maintain a mild crunch in milk for about 5 minutes. After that, the pieces soften and become mushy. If you eat your cereal slowly, consider having two small bowls in succession instead of one larger one.
As for flavor, there's nothing new here. Despite a "made with real chocolate" claim, the taste is more like faux chocolate... the same flavor many of us grew up with in Cocoa Pebbles and Count Chocolate. The chocolate flavor in Double Chocolate Krave really is double that in Chocolate Crave, so chocolate (or faux chocolate) lovers take note.
Double Chocolate Krave leaves the slightest amount of chocolate milk at the bottom of the bowl. The other variety leaves none.
I'm halfheartedly recommending this cereal for it's novelty. The light texture of the pieces mixed with a disappointing drop of filling is a new sensation in the cereal aisle. If you're out for something new and like chocolate cereals, you might like Krave. Unfortunately, the best thing about Krave is it's packaging and the unfulfilled promise of chocolate indulgence.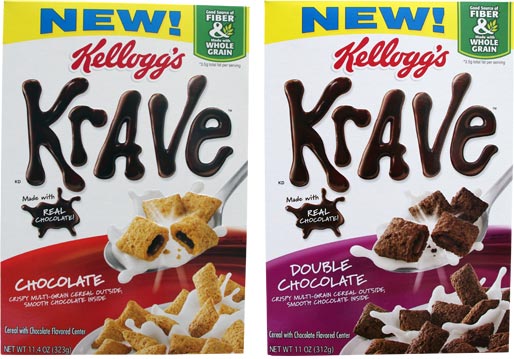 Nutritional Considerations:
Each 3/4 cup serving of Krave cereal has 120 calories, 3.5 grams total fat (1 gram saturated and 0 trans), 3 gram dietary fiber and 2 grams protein. The (single) Chocolate variety has 11 grams sugar, while the Double Chocolate variety has surprisingly 1 less gram of sugar.
The price we paid: $3.99
Comments About This Product Review
What do you think of Krave?
By disappointed


| | |
| --- | --- |
| Product Rating (out of 5): | |

This is my favorite cereal in the UK. I bought this in America and was surprised at how horrible it is. Why did they change it for the American market? The Uk one is filled hazelnut chocolate and is light and creamy. Whereas the American version barely has any chocolate in it and the little chocolate it does have tastes weird. And the shell tastes old and spoiled.

Comment submitted: 3/30/2016 (#5376)



By Kamorathompson


| | |
| --- | --- |
| Product Rating (out of 5): | |

Love this cereal. It's my favorite.

Comment submitted: 3/13/2016 (#5370)



By Brandon14


| | |
| --- | --- |
| Product Rating (out of 5): | |

Gross tasting cereal and annoying commercials.

Comment submitted: 9/23/2015 (#5314)



By Dan1989


| | |
| --- | --- |
| Product Rating (out of 5): | |

It leaves an after taste and the chocolate has a funny flavor to it. The texture of the shell is a put off. As I recall, there was a similar chocolate center cereal back in the 90s or 2000s that also failed because it was kind of gross. Also their commercials are annoying. It's like they are desperate to sell a product they know is garbage so they resort to annoying ads that play constantly.

Comment submitted: 9/15/2015 (#5313)



By Philiums


| | |
| --- | --- |
| Product Rating (out of 5): | |

The taste alone is pretty good. I enjoy having it dry in a little bowl as I watch youtube or shows, but in milk, THIS STUFF GETS SOGGY SO FAST and begins to taste bad.

Comment submitted: 8/26/2015 (#5304)



By Becca


| | |
| --- | --- |
| Product Rating (out of 5): | |

I'm disappointed in the lack of chocolate.

Comment submitted: 7/7/2015 (#5279)



By Weetster


| | |
| --- | --- |
| Product Rating (out of 5): | |

This cereal SUCKS. I HATE IT WITH A BURNING PASSION but this website is pretty quirky but cool.

Comment submitted: 10/21/2014 (#5125)



By VickiMJ

Wondering if the texture of the cereal would work for "Puppy Chow" or "Muddy Buddies"? Anyone tried to do this?

Comment submitted: 11/29/2013 (#4817)



By Hunter-M3


| | |
| --- | --- |
| Product Rating (out of 5): | |

I disagree that the chocolate tastes like cocoa pebbles, but I do agree that it doesn't taste like real chocolate. That being said, I thought the cereal was OK, but I would not purchase it again.

Comment submitted: 10/28/2013 (#4771)



By BearDoc


| | |
| --- | --- |
| Product Rating (out of 5): | |

I like it. I agree that the amount of filling is nowhere near the amount shown on the box, but still... it has a nice chocolate taste and stays a little bit crunchy. I've probably had 5 boxes since it first came out.

Comment submitted: 6/10/2013 (#3921)



By H. J. U.


| | |
| --- | --- |
| Product Rating (out of 5): | |

This is the most delicious cereal ever.

Comment submitted: 6/6/2013 (#3911)



By Cicero


| | |
| --- | --- |
| Product Rating (out of 5): | |

It's really gross in milk, it's like a soggy wafer with a Hershey pieces in it... it also gives the milk a bad after taste. Shame, because it looked so good on the commercial.

Comment submitted: 4/17/2013 (#3766)



By Anonymousguy


| | |
| --- | --- |
| Product Rating (out of 5): | |

Great!

Comment submitted: 1/22/2013 (#3569)



By motherA


| | |
| --- | --- |
| Product Rating (out of 5): | |

I thought I liked it but it tore the heck out of the roof of my mouth!

Comment submitted: 1/1/2013 (#3561)



By Waddie


| | |
| --- | --- |
| Product Rating (out of 5): | |

I love this cereal. But there was no chocolate inside one! I'm so mad.

Comment submitted: 10/13/2012 (#3264)



By Kayla


| | |
| --- | --- |
| Product Rating (out of 5): | |

I like that it doesn't have too much chocolate! I don't like it when it's right out of the box, because I was expecting more, but when it's in milk it's like you get a nice little burst of chocolate. :)

Comment submitted: 8/16/2012 (#3212)



By Hyledd


| | |
| --- | --- |
| Product Rating (out of 5): | |

Krave is a delicious cereal. I just started eating it recently to try it out, and it's great. As far as what the image shows, you have to consider the camera angle. It looks like the chocolate on the box is covering just the bottom of the core rather than filling the entire shell. But of course they doctor images on all sorts of products all the time. That said, I'm not surprised either way, but I can still taste the chocolate. Therefore, I'm happy.

Comment submitted: 8/16/2012 (#3211)



By S.L.


| | |
| --- | --- |
| Product Rating (out of 5): | |

I love this cereal. I must first confess I'm not a chocolate lover, and I bought this on a whim. I haven't had it with milk, but it makes a great dessert or afternoon snack out of the box. Tastes like s'mores! I'm tempted to make some Krave treats with marshmallows, Rice Krispies style.

Comment submitted: 6/7/2012 (#3138)



By gracie


| | |
| --- | --- |
| Product Rating (out of 5): | |

This was one of the worst cereals I have tasted. I feel like I wasted my money.

Comment submitted: 6/3/2012 (#3134)



By DaNatural

Closest thing that I have found to the 70's Mr Wonderful's Surprize :-) Love this cereal!

Comment submitted: 5/5/2012 (#3111)





By jxchxc (Team Breakfast Member)

Reminds me of the old Pop-Tarts Crunch Cereal, only not as good.

Comment submitted: 5/4/2012 (#3109)





By nicolbie (Team Breakfast Member)


| | |
| --- | --- |
| Product Rating (out of 5): | |

It's not bad, but it's definitely not my favorite. I think the texture is pretty unique about it - crunchy with a smooth chocolatey center, but I'm just not a fan of the taste.

Comment submitted: 4/29/2012 (#3089)



By Bordwithb


| | |
| --- | --- |
| Product Rating (out of 5): | |

I absolutely LOVE Krave Cereal!

Comment submitted: 4/23/2012 (#3084)



By Norwegian


| | |
| --- | --- |
| Product Rating (out of 5): | |

Freaking love this cereal. I only have a little bit in the morning or a tiny bit at night as a "dessert"... I agree it doesn't have a ton of chocolate but I think it's delish!

Comment submitted: 3/1/2012 (#3027)



By crazyz216


| | |
| --- | --- |
| Product Rating (out of 5): | |

I love this cereal, but you are so right. There is barely any chocolate and it does get mushy. Taste overall is very good though I think. :D

Comment submitted: 2/24/2012 (#3023)



By Ripped Off


| | |
| --- | --- |
| Product Rating (out of 5): | |

Utterly disappointed with this product. The first piece I picked up didn't have ANY chocolate inside at all. I thought maybe it was an error from the factory. However piece after piece I bit into were similarly vacant. Finally, I found a couple pieces with the most microscopic amount of something dark inside. I assume it was chocolate but I doubt if there was enough of the substance to retrieve for laboratory testing.

Comment submitted: 2/21/2012 (#3022)



By luckycharms


| | |
| --- | --- |
| Product Rating (out of 5): | |

Caz is right, Tresor cereal, predecessor of Krave in Europe has more chocolate filling then the new Krave nad it also comes in a chocolate-hazelnut version, yummy!

Comment submitted: 2/7/2012 (#3008)



By caz

That sucks cause the European version is FILLED with chocolate, it's like eating hershey syrup in a crunchy shell... soooooo goood.

Comment submitted: 2/6/2012 (#3007)




---
Connect With Mr Breakfast:



Most Recent
Product Reviews: