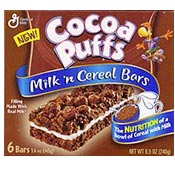 New Product Review:
Cocoa Puffs Milk 'n Cereal Bars
From General Mills
Reviewed by Mr Breakfast on 10/14/2003
Sugar Overload! Sugar Overload!
I don't think anyone will argue over the fact that Cocoa Puffs is a sweet cereal. Personally, I've always liked the cereal. I admire its crunch and the way it produces quality chocolate milk. And maybe it's just a sign of respect, but
I would never squeeze the individual balls together and pour frosting on them instead of milk
.
Unfortunately, that pretty much sums up the new Cocoa Puffs Milk 'n Cereal Bar. The "milk" is not like milk at all, but is more like the creamy filling of an Oreo cookie. For Cocoa Puffs - the cereal, real milk changes the character of the nuggets while allowing them to be individual identities. This is because the milk offsets the sweetness. In Cocoa Puffs - the bar, the "milk" filling serves to compile the sweetness and the result is a sugar overload.
On the plus side, each 160 calorie bar is surprising filling and does contain 25% of the daily recommended amounts of calcium and Vitamin D. But the hard facts remain. If you want sweet, there are hundreds of better candy bars. If you want nutrition, Balance Bars, Power Bars and Slim Fast Bars are superior choices in both nutrition and taste.
The price we paid: $3.99
Comments About This Product Review
What do you think of Cocoa Puffs Milk 'n Cereal Bars?
By jay long stock


| | |
| --- | --- |
| Product Rating (out of 5): | |

I don't know why they took the Cocoa Puffs cereal bar off the market. I really liked it.

Comment submitted: 2/10/2013 (#3599)





By nicolbie (Team Breakfast Member)


| | |
| --- | --- |
| Product Rating (out of 5): | |

I know they don't make this flavor anymore, but I really enjoy the Cheerio's ones. They're great on the go.

Comment submitted: 4/29/2012 (#3093)



By Chocolatelover


| | |
| --- | --- |
| Product Rating (out of 5): | |

We loved these but can't find anymore, especially the box with only this flavor. Wish they'd bring 'em back. Now trying to find a way to make at home.

Comment submitted: 8/15/2010 (#2468)



By TOM R

These are really great snacks. Can't find them anymore except in the triple pack with the other two cereal bars, which I do not like. Why can't you just sell boxes of the cocoa puff milk n cream and not force the other two flavors on your customer. I'm not buying a 6 pack to only enjoy two of the sic bars in the box !!!

Comment submitted: 4/10/2010 (#2271)



By Boo Yay


| | |
| --- | --- |
| Product Rating (out of 5): | |

Pleassssssse bring them back!!!!

Comment submitted: 4/2/2010 (#2259)



By Tom

I can't find this product anymore. Is it discontinued ?

Comment submitted: 3/26/2010 (#2247)



By Danielle


| | |
| --- | --- |
| Product Rating (out of 5): | |

No more variety boxes?

Comment submitted: 3/1/2010 (#2189)



By Ally


| | |
| --- | --- |
| Product Rating (out of 5): | |

I love this cereal bar. I can't find it in a box by itself... only in a variety box and I don't like the other two in the box with it!!!

Comment submitted: 2/2/2010 (#2127)





By peanut (Team Breakfast Member)


| | |
| --- | --- |
| Product Rating (out of 5): | |

They are great for dessert or a snack but not for breakfast. Try other cereals like Count Chocula, Frankenberry and Booberry just for Holloween.

Comment submitted: 10/13/2009 (#1959)



By KooKooKoo


| | |
| --- | --- |
| Product Rating (out of 5): | |

These are ADDICTIVE!! AMAZING.

Comment submitted: 9/7/2009 (#1904)



By rae rae


| | |
| --- | --- |
| Product Rating (out of 5): | |

You guys that dont like these are freaking stupid! these cocoa bars are amaaazing! me and my brother always used to eat themmm! and now you only sell them in the variety pack... not a very good idea because my mom wont buy the variety pack for us to eat 2 out of 6 cereal bars. its bull.....

Comment submitted: 8/17/2009 (#1870)



By Ramsey


| | |
| --- | --- |
| Product Rating (out of 5): | |

I'm surprised you rated these so low, as with the majority, I'm going to have to disagree with you. These are delicious.

Comment submitted: 7/19/2009 (#1844)



By Busy Beaver


| | |
| --- | --- |
| Product Rating (out of 5): | |

These cereal bars are really good. I agree that its not real milk, but when your busy and on the go, you don't have time for real milk. and kids love the cream filling and the cereal bars.

Comment submitted: 5/14/2009 (#1657)



By butterfinger


| | |
| --- | --- |
| Product Rating (out of 5): | |

I LOVE THESE!!! So delicious...

Comment submitted: 12/12/2008 (#1330)



By health nut

High fat and saturated fat.

Comment submitted: 6/5/2008 (#1047)



By Goood Stuuuf


| | |
| --- | --- |
| Product Rating (out of 5): | |

Delicious!!!! The bast ever!!!!

Comment submitted: 5/21/2008 (#1034)





By Mommly (Team Breakfast Member)


| | |
| --- | --- |
| Product Rating (out of 5): | |

My son LOVES these. Please bring them back. It is not your choice what I feed my son.

Comment submitted: 4/25/2008 (#984)



By yayy


| | |
| --- | --- |
| Product Rating (out of 5): | |

Review by Amanda and Jim.

Amanda: -taking the first bite- UCK!!

Jim: -from a cocoa puff lover standpoint, i came in with high expectations. those expectations were matched upon my first bite, yet i was left wanting something more... and furthermore, i enjoyed the convenience of cereal on the go.

Amanda: ..... uck....

Comment submitted: 1/24/2008 (#843)



By DB


| | |
| --- | --- |
| Product Rating (out of 5): | |

You need to bring the cereal bar back!! It's the only one my son will eat out of the variety pack.. HELLO!!! Don't be stupid..

Comment submitted: 1/9/2008 (#822)



By Good Bars


| | |
| --- | --- |
| Product Rating (out of 5): | |

I love these bars... They taste very good to me and are much better than what I could otherwise eat on the quick and have pretty decent nutrition to be so sweet. I don't get the "frosting" comment at all.

Comment submitted: 11/10/2007 (#748)



By nickux


| | |
| --- | --- |
| Product Rating (out of 5): | |

I have to disagree with your review of these bars. I often eat them as a snack when I'm on my way to class (I'm a college student) or when I'm jonesin' late at night. I never felt like I was getting to high a sugar-rush and I think they are a much better thing for kids to eat than the sandwich this site gave a 7/7 from McDonald's. This thing will kill someone fairly quickly! It's a McMonster and you gave it a 7/7 and gave General Mill's revamp of a classic cereal a 2? Oh sirs... you've lost your way.

Comment submitted: 3/16/2007 (#352)



By Mom


| | |
| --- | --- |
| Product Rating (out of 5): | |

All three of my kids love them and eat them for a snack instead of breakfast. I was getting them through Amazon and am sooo disappointed that we can't get them. The kids don't like the Honey nut or Gramham kind enough to make it worth buying the variety pack.

Comment submitted: 1/7/2007 (#215)



By Not So Great


| | |
| --- | --- |
| Product Rating (out of 5): | |

I would say that the cocoa puffs milk n' cereal bars are over rated. You do not get that much nutrition and they are too sweet for breakfast, now for dessert, they work out just fine!

Comment submitted: 11/20/2006 (#132)





By rosebello (Team Breakfast Member)


| | |
| --- | --- |
| Product Rating (out of 5): | |

Have you ever eaten about 10 sugary treats when you endulged yourself? And gotten that yucky too much sugar feeling. If you like that feeling try one of these today!!! UGH!

Comment submitted: 10/29/2006 (#95)



By No Nickname


| | |
| --- | --- |
| Product Rating (out of 5): | |

I love these, and I'm so sad that we can't get them any longer. Yes. They are sweet. Cocoa Puffs in general are sweet. But they are what they say - the nutritional equivalent of a bowl of cereal served with milk. Not only that, but in the true size of one serving of cereal and milk. My favorite breakfast!

Comment submitted: 10/12/2006 (#70)



By alycat


| | |
| --- | --- |
| Product Rating (out of 5): | |

I strongly disagree with you rating cocoa puffs milk and cereal bars - only a two out of a possible seven golden eggs. The bars are fantastic and deserve much more credit than that. The chocolately taste with the milk combined into a bar gives your mouth such a magical sensation. The taste stays with you for a long amount of time and it is a splendid feeling to have throughout the day. I hope that you will take notice to my email and reconsider your thoughts on this truely great cereal bar.

Comment submitted: 1/23/2005 (#13)




---
Connect With Mr Breakfast:



Most Recent
Product Reviews: