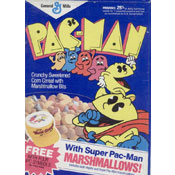 From: General Mills
Introduced in 1983
Pac-Man Cereal hit the shelves in 1983, capitalizing on the huge success of the arcade game Pac-Man which had taken America by storm the since it's introduction in 1980. The cereal was a "crunchy sweetened corn cereal with marshmallow bits". The marshmallows were shaped like Pac-Man, and the game's ghost characters: Blinky, Pinky, Inky and Clyde.
The cereal later introduced Ms. Pac-Man marshmallows with a "a shocking pink bow" and Super Pac-Man marshmallows which were just larger versions of existing Pac-Man marshmallows.
Animated children eating the cereal in commercials referred to themselves as "ghost chompers".
The cereal was said to taste like an extra-sugary version of Kix Cereal with marshmallows.
Known premiums: send-away offers for a "Ghost Chomper" hat or Pac-Man game watch, entry details to win a full-sized Pac-Man arcade game or a mini electronic version of the game, a cut-out Pac-Man mobile, and send-away offers for a neon camera (Canada), a Pac-Man bowl or a Pac-Man ring.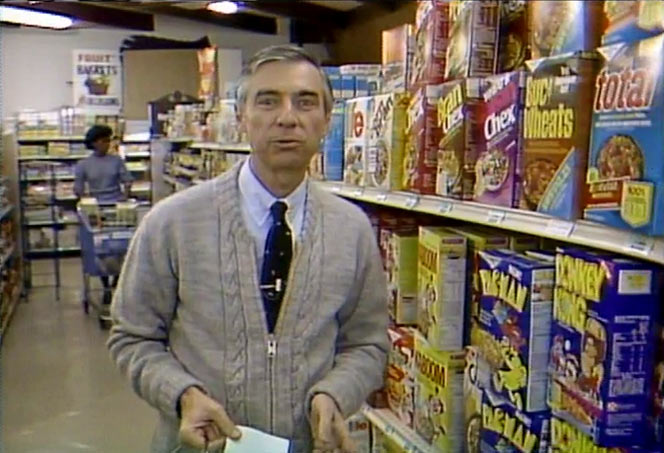 In a 1984 episode (#1529) of
Mr. Rogers' Neighborhood
, Mr. Rogers takes a trip down the cereal aisle where you can see Pac-Man cereal along with other discontinued favorites like Donkey Kong Cereal and Buc-Wheats.
Click here
to see all cereals from General Mills.
This cereal belongs to the following Mr Breakfast Cereal Families:
The Marshmallow Madness Cereal Family
Pac-Man Cereal Theater
Additional Images
These are the most recent images. Click here to see all pictures for Pac-Man.
There's More Pictures! See all images for Pac-Man cereal
Upload an image for this cereal

Overall Average Rating = 5 (out of 5)

View all 36 comments for this cereal.


By ghostie


| | |
| --- | --- |
| Cereal Rating (out of 5): | |

The best cereal I ever tasted! Bring them back please!

Comment submitted: 5/3/2014 (#17012)



By R.D.


| | |
| --- | --- |
| Cereal Rating (out of 5): | |

I remember this cereal when I was little. I was just going through one of my mom's cabinets and found six (yes that's correct) SIX Pac-Man coupons with no expiration date.

Comment submitted: 2/22/2014 (#16142)





By j3px1 (Team Breakfast Member)


| | |
| --- | --- |
| Cereal Rating (out of 5): | |

I was 9 when this came out and I saw this commercial on ABC while during a Mighty Orbots break. I wanted this and my aunt bought it for me. Its fun appeal to me then- with its colorful marshmallows and sweet plain pieces - would have had this rated awesome, but now that I'm older and more objective here, it gets a 'Very Good' rating.

Comment submitted: 2/18/2014 (#16091)



By G. Hamilton


| | |
| --- | --- |
| Cereal Rating (out of 5): | |

This cereal was awesome for the following reason - the non marshmallow bits. All other marshmallow cereals had the deliciousness of marshmallows, but lacks in the other half. This had a perfect world of marshmallow goodness and sugar coated wheat pieces. Also - once I got a box with nothing but marshmallows. I wish General Mills would recreate the cereal and put some modern cartoon on the front to make it sell.

Comment submitted: 1/21/2014 (#15795)



By K.I.D. 35


| | |
| --- | --- |
| Cereal Rating (out of 5): | |

Man, it was the best cereal ever! Lucky Charms' taste is close but not as good. - From an old kid of 35 ;)

Comment submitted: 12/11/2013 (#15510)



By Majic

Yeah! Blinky, Pinky and Clyde! Loved Pac-Man. Seeing this cereal again brought back great memories of my first Atari system.

Comment submitted: 6/4/2013 (#12268)



By kristi


| | |
| --- | --- |
| Cereal Rating (out of 5): | |

I loved the Pac Man cereal. This totally reminds me of watching Bugs Bunny cartoons on Saturday morning and playing our clunky old Atari. Good times!

Comment submitted: 11/20/2012 (#9980)



By Auntieneanie


| | |
| --- | --- |
| Cereal Rating (out of 5): | |

Is there a web site that still sells this? I was pregnant when this became really popular and have been craving it again. Mmmm so relish. Auntieneanie@AOL.com

Comment submitted: 11/11/2012 (#9853)



By bigpop


| | |
| --- | --- |
| Cereal Rating (out of 5): | |

I won one of their mini arcade games out of the cereal box.

Comment submitted: 7/31/2012 (#8682)



By SMcFlyJr1979


| | |
| --- | --- |
| Cereal Rating (out of 5): | |

I knew someone wop won the tabletop mini version of Pac-Man... I think maybe through the cereal (or might have been back when eBay started). LOL!

Comment submitted: 5/2/2012 (#7510)



View all 36 comments for this cereal.