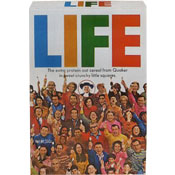 From: Quaker
Introduced in 1961
In 1972, a Life Cereal commercial first aired starring a finicky young eater named Mikey. Featuring the lines "I'm not gonna try it - you try it. Let's get Mikey... he hates everything," the ads ran for several years and became one of longest continuously running commercial campaigns in television history.
When Life Cereal was introduced in 1961, a magazine ad described the cereal like this:
Now from oats... natures richest protein grain... Quaker brings you Life. Kids love the delicate sweetness that the sugar crystals inside Life add to its great toasty, oats taste
.
Mothers love the protein build-up Life gives (and the way kids eat it up).

Everybody loves Life's special protein - useful protein - the same quality of protein you get in meat and milk!

You'll love Life!
The original slogan for Life Cereal was "Life has the most useful protein - ever in a ready-to-eat cereal!"
An early television ad for cereal described it as "the good oat cereal - tiny bite sized pieces of shredded oats with sugar crystals locked inside."
Click here
to see all cereals from Quaker.
This cereal belongs to the following Mr Breakfast Cereal Families:
The Life Cereal Family
Life Cereal Theater
Additional Images
These are the most recent images. Click here to see all pictures for Life.
There's More Pictures! See all images for Life cereal
Upload an image for this cereal

Overall Average Rating = 4 (out of 5)

View all 19 comments for this cereal.




By richardpaulhall (Team Breakfast Member)


| | |
| --- | --- |
| Cereal Rating (out of 5): | |

Absolutely the worst cereal I ever tried. The only box of cereal I just could not finish. My brother tried it one morning and agreed with me.

Comment submitted: 4/5/2013 (#11527)



By Dolan H.


| | |
| --- | --- |
| Cereal Rating (out of 5): | |

Life cereal is like Shreddies on steroids and sugar. This is my favorite cereal that does not taste like (to quote Calvin and Hobbes) Chocolate Frosted Sugar Bombs, and still delivers the goods.

Comment submitted: 2/12/2013 (#10764)





By mobygrapenut (Team Breakfast Member)


| | |
| --- | --- |
| Cereal Rating (out of 5): | |

One of my favorites as a child. I loved the lightly sweet toasted oat flavor and the way the texture changed from crunchy to chewy as I ate my way through the bowl. I'd probably enjoy it now but I don't need to. I ate so much of it growing up that just remembering it is as good as eating it.

Comment submitted: 2/5/2013 (#10643)



By LifeLady


| | |
| --- | --- |
| Cereal Rating (out of 5): | |

I have been eating Life cereal for over 50 years now. I even remember my first bowl of this delicious cereal. One time I was visiting someone's home as a guest. She knew I liked Life and had some for me. She also had a young daughter about age 5. A year or later I was going for a return trip to her house. She told her daughter about it ahead of time and said I had been to house before. Daughter said, "Is that the lady who likes Life cereal?"

Comment submitted: 9/12/2012 (#9098)





By MyEmptyCanvas (Team Breakfast Member)


| | |
| --- | --- |
| Cereal Rating (out of 5): | |

The Original Regular Life cereal - I just couldn't eat because it was almost flavorless in a way and because of that I never tried the others. (myemptycanvasreviews.blogspot.com)

Comment submitted: 6/21/2012 (#8117)



By vaudeville2


| | |
| --- | --- |
| Cereal Rating (out of 5): | |

I second Marc's vote on the Vaudeville commercials. Anything that featured two guys in gorilla suits had my instant attention. Still does. I believe this was the TV campaign immediately before the one with Mikey came out.

Comment submitted: 5/26/2012 (#7768)





By Kaboodle Doodle (Team Breakfast Member)


| | |
| --- | --- |
| Cereal Rating (out of 5): | |

My second favorite after Boo Berry.

Comment submitted: 5/9/2012 (#7609)



By AA6


| | |
| --- | --- |
| Cereal Rating (out of 5): | |

This is my most favorite cereal. I can't get enough of it!

Comment submitted: 5/9/2012 (#7597)





By McFlyJr1979 (Team Breakfast Member)


| | |
| --- | --- |
| Cereal Rating (out of 5): | |

Only #59 on your list of the top 100 cereals? That's blasphemy. This cereal doesn't even need sugar added. It is one of the few cereals perfect w/o it, as it has enough in it already! :)

Comment submitted: 5/2/2012 (#7524)





By johnnyboy52 (Team Breakfast Member)

My idea for a television commercial. A family setting of 4. Mom, Dad, Sister, brother. Sister is 7 years old, brother is 10 years, old, parents are middle aged. Sister begins the commercial by stating life cereal tastes so good and makes her feel good about beginning her day as she is leaving with school backpack heading out the door. Brother says life cereal has increased his amount of friends that cannot wait for him to arrive at school they want to start breakfast with him by sharing his life cereal. The commercial ends with the children holding individual life boxes and simply stating my life. Then the two children standing together holding one life cereal box between them with parents behind them, father with right hand on son's right shoulder and mother's left hand on daughter's left shoulder and both parents say "our life".

Comment submitted: 12/9/2011 (#5931)



View all 19 comments for this cereal.