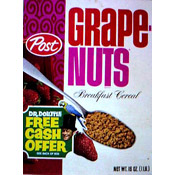 From: Post
Introduced in 1897
When C.W. Post invented this cereal in 1897, he was looking to produce a coffee substitute - a follow-up to the successful Postum beverage he'd developed a couple years early. What he ended up with were crunchy nuggets whose recipe was very close to first cereal ever created in 1863, Granula.
Post called his new cereal Grape-Nuts. The word "grape" stems from the cereal's inclusion of maltose, which Post referred to as "grape sugar". "Nuts" was a reference to the toasty, nutty flavor of the cereal.
Post promoted the cereal with an ad campaign that was considered bold for it's time. He positioned Grape-Nuts as "the most scientific cereal in the world". Boxes of the cereal came with the prize of an 11 page pamphlet called "The Road To Wellville" written by Post. In-store tastings and sample give-aways helped to entice consumers and Grape-Nuts became an almost instant hit.
A spin-off of the cereal called Grape-Nuts Flakes appeared in the early 1930's.
- - - - - - - - - - - - -
Grape Nuts Cereal was responsible for the creation of
The Andy Griffith Show
. In the late 1950's, Post cereals sponsored a TV series called
The Danny Thomas Show
. The lesser known TV show took place in New York City and had a city-slicker vibe that didn't jive with some of Post's more wholesome cereals.
To help promote Grape Nuts, writers created an episode that brought Danny Thomas to a wholesome, all-American, small town called Mayberry. This was America's first introduction to Sheriff Andy Taylor, one of television most beloved characters.
In 1960, a spin-off of the Thomas show,
The Andy Griffith Show
, premiered. During the original airings, commercial breaks featured Andy Griffith and co-star Don Knotts professing their characters' love of Grape Nuts and Grape Nut Flakes cereals.
The Andy Griffith Show
ran until 1968.
- - - - - - - - - - - - -
In 1903, The Postum Company (later known as Post) ran Grape-Nuts ran ads insinuating the cereal could cure alcoholism (then known as "the drink"). One ad titled "Did you ever know that improper food often causes the liquor habit?" had the following testimonial from a man referred to only as a "well-known businessman":
"I have used Grape-Nuts now for more than a year and I am now entirely strong and robust, entirely cured from drink and able to work hard everyday. My gratitude for Grape-Nuts is unspeakable, as it has saved my life and my reputation."
- - - - - - - - - - - - -
The origin of Grape-Nuts was briefly described on the back of 2009 vintage-style Grape-Nuts cereal box:
"American Breakfast History
"Grape-Nuts isn't just part of your breakfast - it's been a part of American history for over 100 years. Take a trip down memory lane with Grape-Nuts packaging and advertising.
"1895 - Energy for Discovery: This year saw the debut of the motion picture projector, the wireless telegraph, the X-ray, and C.W. Post's cereal company.
"1897 - Better than Gold: Mr. Post introduces Grape-Nuts believed to be named after the "grape sugar" that formed during the baking process.
"1955 - Every Little Bit Packs a Wallop - America turned Grape-Nuts for energy - it even helped take an explorer to the top of Mt. Everest."
(The description goes on to present two more years, but the text becomes more promotional than informative.)
- - - - - - - - - - - - -
Very early packages of Grape-Nuts described the cereal as a "compound made of wheat, barley, salt and yeast.
In 2010, the ingredients listed for Grape-Nuts were whole grain wheat, wheat flour, sugar, malted barley flour, high oleic vegetable oil (canola or sunflower oil) and salt.
Click here
to see all cereals from Post.
Grape-Nuts Cereal Theater
Additional Images
These are the most recent images. Click here to see all pictures for Grape-Nuts.
There's More Pictures! See all images for Grape-Nuts cereal
Upload an image for this cereal

Overall Average Rating = 4 (out of 5)

View all 19 comments for this cereal.


By Wilson


| | |
| --- | --- |
| Cereal Rating (out of 5): | |

New recipe - not the same taste. Post recently added soy protein to the ingredients. I don't like the new taste. I'm going back to Cheerios.

Comment submitted: 4/20/2013 (#11778)



By Onatu


| | |
| --- | --- |
| Cereal Rating (out of 5): | |

I remember being introduced to Grape Nuts as a kid and finding them terrible plain. Thankfully, my parents showed me how awesome they are when you pour the milk in and microwave a bowl of Grape Nuts, then top it with fruit or honey.

That was fifteen years ago now, and I actually prefer eating Grape Nuts cold now. Still, gotta have that honey, fruit, or even cinnamon (well, it's fine without those of course). Overall it's my favorite cereal ever - and it's great to mix with Honey Nut Cheerios or Honey Bunches of Oats!

Comment submitted: 3/9/2013 (#11171)



By Chomper01


| | |
| --- | --- |
| Cereal Rating (out of 5): | |

Grape Nuts, huh? Ought to have called it "Gravel" cereal, because that what it tasted like when you ate them with milk... Crunchy Gravel. (LOL) Other than that, it was pretty good stuff when served as a topping on yogurt, pudding or ice cream.

Comment submitted: 2/25/2013 (#11018)





By mobygrapenut (Team Breakfast Member)


| | |
| --- | --- |
| Cereal Rating (out of 5): | |

Been loving those crunchy things since I was a little kid foraging around in my grandma's pantry for illicit snacks. Back then the ads said "They fill you up, not out". In the early 70s, Ewell Gibbons pitched them, saying that the reminded him of wild hickory nuts. From my teens to early twenties, they became a staple food. Then, Post began the "Are you good enough for Grape Nuts" campaign. I found that so ridiculous that I quit eating them until a couple of months ago. I've been really enjoying them.

Comment submitted: 2/5/2013 (#10639)



By Sheila D.


| | |
| --- | --- |
| Cereal Rating (out of 5): | |

I've been eating Grape-Nuts for a long time, since I was a teenager fifty years ago. I use a small bowl, Splenda and unsweetened soy milk when I want a snack that is filling but isn't too sweet. It does have a mild laxative effect but I think that's a good thing.

Comment submitted: 10/22/2012 (#9622)





By MyEmptyCanvas (Team Breakfast Member)


| | |
| --- | --- |
| Cereal Rating (out of 5): | |

I remember trying these in the 90s and I hated them. I thought they tasted like sticks and were as hard as rocks! Then I tried them again about 2 years ago and nothing has changed. When I'm ready to have a bald mouth, I'll pick up a box. Until then, these will continue to sit on the shelf at the store. (myemptycanvasreviews.blogspot.com)

Comment submitted: 6/21/2012 (#8120)



By Daddio


| | |
| --- | --- |
| Cereal Rating (out of 5): | |

I was remembering when the box used to say, "May be habit forming" on it as did anything that was considered a laxative. I've never really liked it as a cereal, but love it mixed into yogurt and on ice cream. It's funny now to see that there used to be claims that it cured "the drink". Wow, C.W. Post was a huckster. I am grateful for both the Danny Thomas Show and the Andy Griffith Show which came about as a result of Post Cereals. Especially for Danny Thomas in that he created the St. Jude's Hospital.

Comment submitted: 3/10/2012 (#6799)



By Royce

Worst cereal ever. It's too crunchy on minute and then to soggy the next. I'll never understand how it's so popular.

Comment submitted: 2/12/2012 (#6494)



By jerry

When did they use the boats for premiums?

Comment submitted: 6/7/2011 (#5047)





By Cincinnati Kid (Team Breakfast Member)


| | |
| --- | --- |
| Cereal Rating (out of 5): | |

Always liked Grape Nuts. Sometimes can be a little hard to swallow without something to drink (besides the milk they're in) them with. I remember in the old "Post Tens" packages (ten little boxes of individual cereal sold in one package), there was only one box of Grape Nuts and usually two of almost everything else.

Comment submitted: 6/3/2011 (#4975)



View all 19 comments for this cereal.