Welcome to a new feature at Team Breakfast.  Every couple of weeks, I'll be going through some of my favorite food blogs and letting you know if they posted anything interesting about breakfast.   Hopefully, you'll discover some great new recipes and ideas.
Here's today's list.  Click around the sites a little.  I guarantee you'll find a bunch of stuff you like.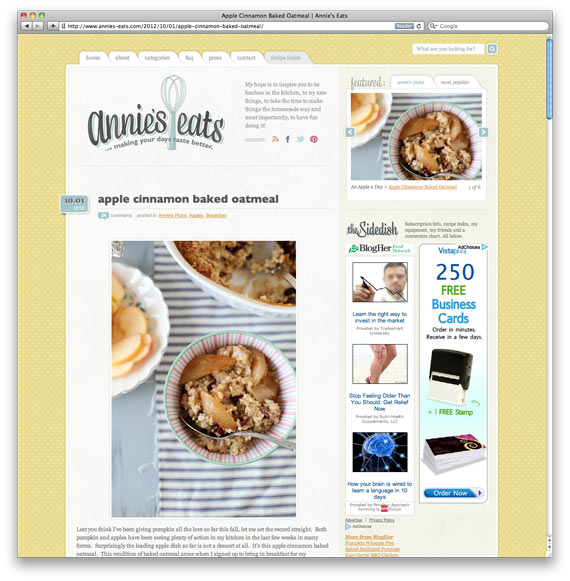 Over at Annie's Eats, you'll find a tasty looking Apple Cinnamon Baked Oatmeal that uses steel cut oats and seasonal apples.  (Posted on 10/1)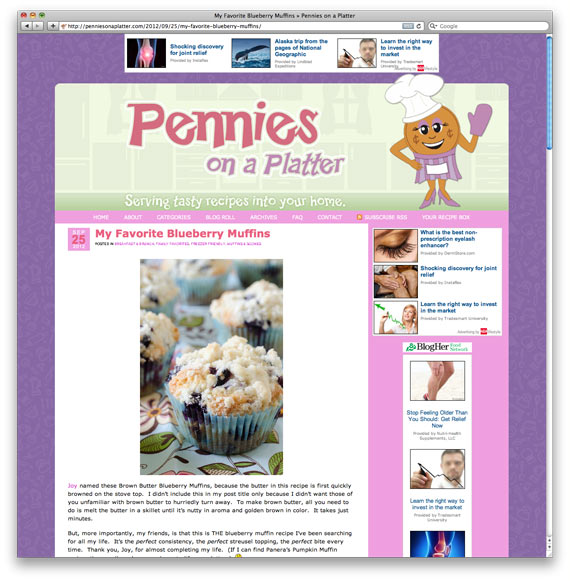 Nikki at Pennies On A Platter posted her Favorite Blueberry Muffin recipe.  If they taste as good as they look, I'll take 10 please. (Posted on 9/25)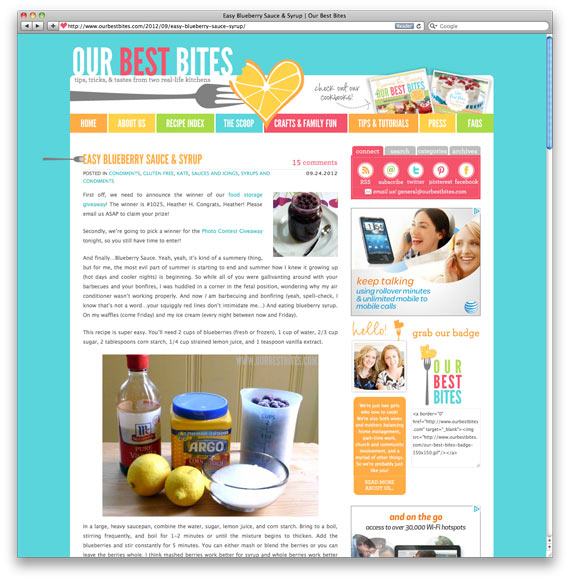 Looking for a great blueberry topping for pancakes, waffles or French toast?  You might want to visit Our Best Bites and check out their Easy Blueberry Sauce & Syrup.  (Posted 9/24)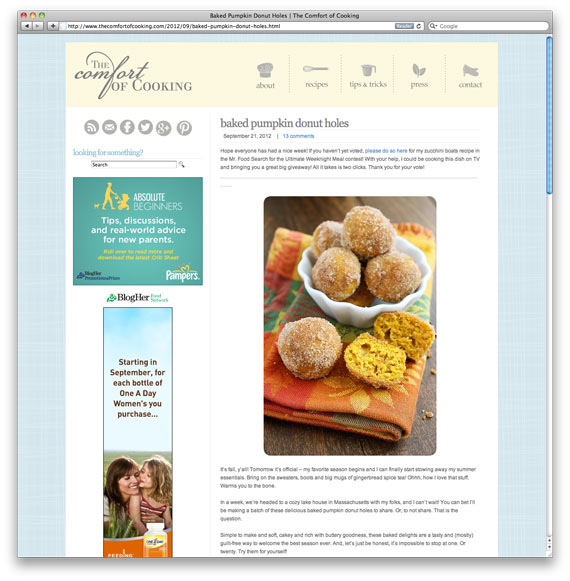 Over at The Comfort Of Cooking, blog master Georgia is serving up a great treat for the Halloween season.  Check out her Baked Pumpkin Donut Holes. (Posted 9/21)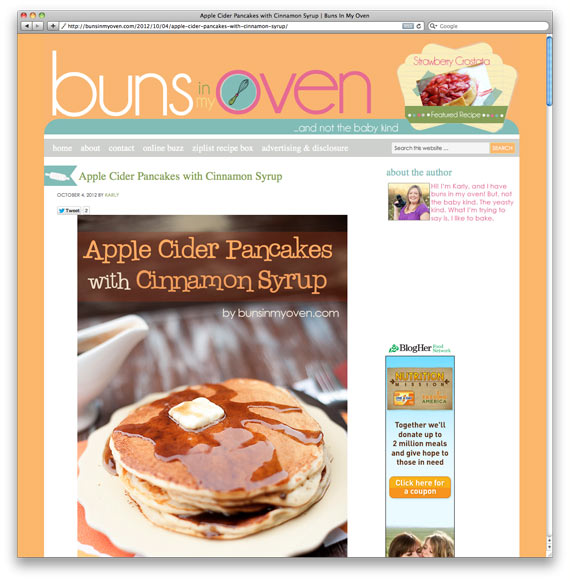 Karly at Buns In My Oven posted a recipe for beautiful Apple Cider Pancakes With Cinnamon Syrup.  I love the photos on this site. (Posted on 10/4)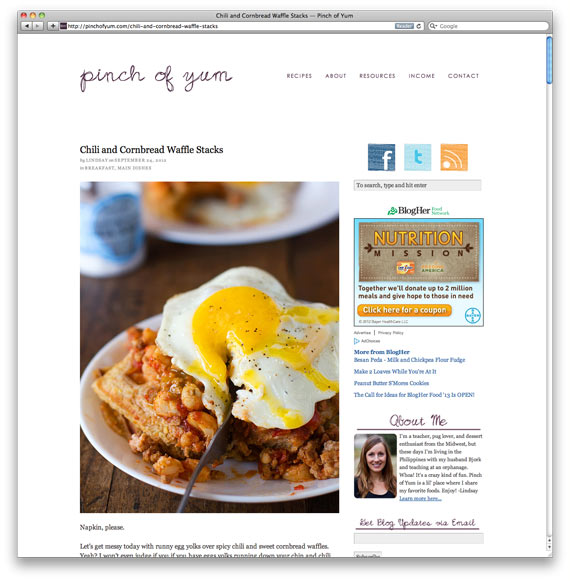 Breakfast gets a little decadent over at Pinch of Yum where Lindsay posted a recipe for Chili And Cornbread Waffle Stacks complete with a sunny-side-up egg on top.  Besides the great recipes and food photos, this site also serves up some valuable insights about operating a blog and actually making some money from it.  (Posted on 9/24)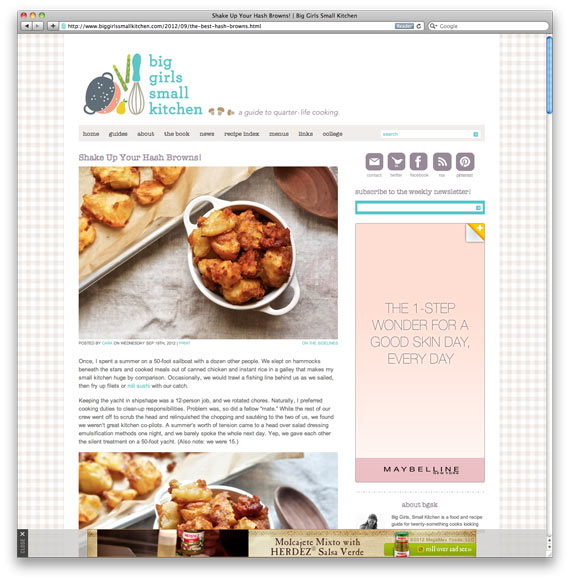 Meanwhile at Big Girls Small Kitchen, you can learn to make Shakin' Hash Browns – beautifully crisped potato chunks seasoned with salt and paprika. (Posted on 9/19)
At Everybody Loves Sandwiches where they make more than sandwiches, they're serving up some Pumpkin Walnut Granola that's flavored with pumpkin puree and pumpkin pie spice for ultimate pumpkin flavor. (Posted on 9/17)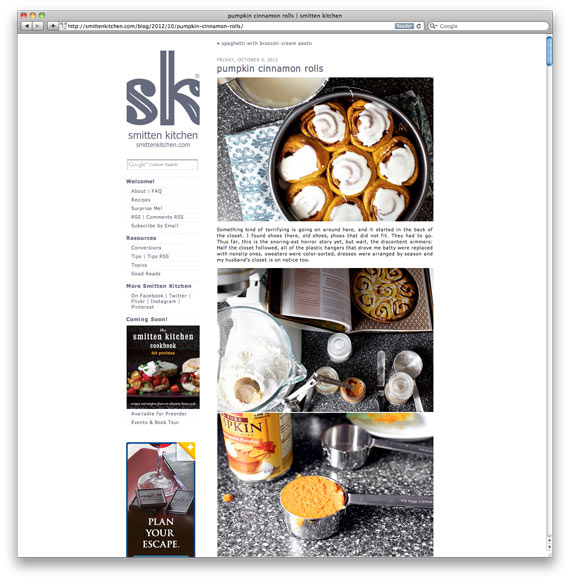 Another great blog doing interesting things with pumpkin is Smitten Kitchen.  Have a look at their Pumpkin Cinnamon Rolls.  I'll bet you'll want to try them.  I know I do. (Posted 10/5)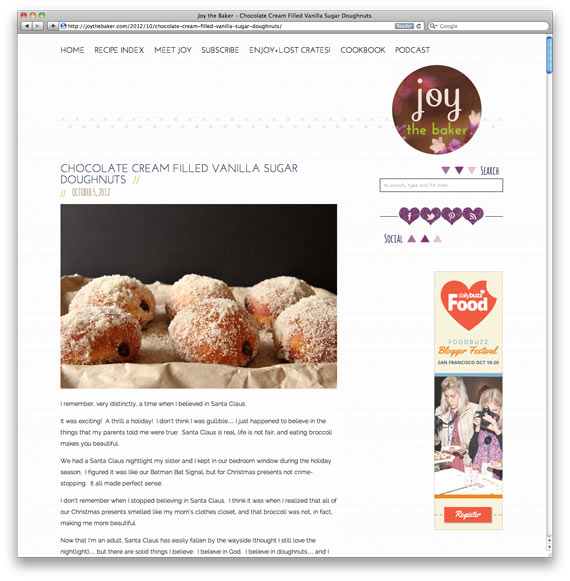 Joy The Baker had a few posts about breakfast in recent weeks.  The one I'm really excited about is Chocolate Cream Filled Vanilla Sugar Donuts. (Posted on 10/5)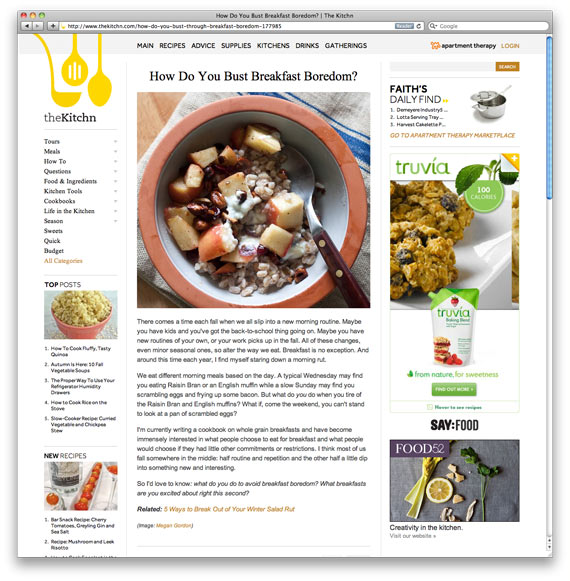 Finally, our friends at The Kitchn are asking How Do You Bust Breakfast Boredom and soliciting answers from their visitors.  Let them know how you do it. (Posted on 10/5)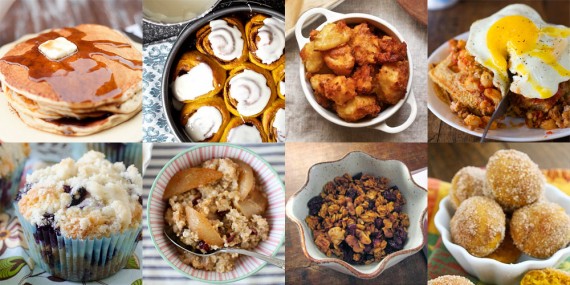 Join The Roundup…

If you have a blog and made a recent post about breakfast, let me know in the comments below.  I'll definitely consider adding it to the next Breakfast Blog Roundup.
You Might Also Like: